So I'm still pretty new at this whole GPT idea. [Get paid to]
So after browsing the wonderful forums available on this site, I picked up a few tricks and tips here and there. First off all I realized I had way too much in my pendings and that way none of it would ever go through. So I decided to remove it all and start doing the offers over again.. this time.. waiting til some credit before doing more. So far.. works like a charm!
I also learned that clearing cookies after each offer, and changing email addresses often helps getting the offers to credit faster!
Here is another screenshot of what my earnings look like so far!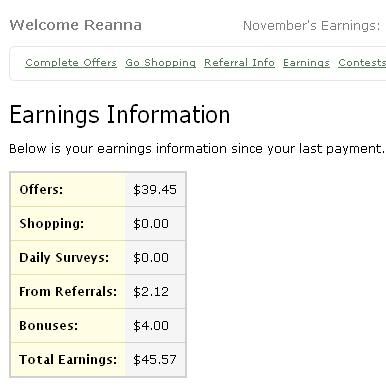 Oh and I've also managed to get a referral!


My real name is Reanna but around the web, especially in the MMO (make money online) world, I'm referred to as TriNi. On this blog, I aim to teach people that it CAN be done; that there are legit and 100% free ways to make money online.