I've started making money a whole new way AGAIN!
Everyone tells me I'm a great writer, so… I've decided to take it and use it to make some cash!
I've signed up at Associated Content and just got paid for writing my first article!
Now it's not much but it's definitely a start and this article literally took me about 10 minutes of my time! The release date still says pending so I don't think it was published on the site just yet, but I have been paid for it and here is proof!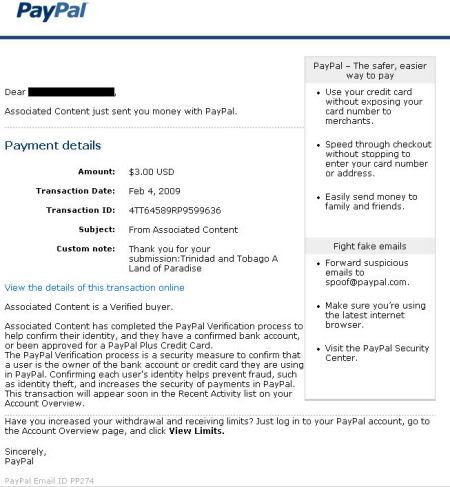 Click on it for full view.
Basically this site is FREE to join. And you get paid via Paypal.
You can get paid two ways:
1. If you're a US resident, you're eligble for Upfront payment, which is what I just received. This can range from ($1 to $20). They will review your article once submitted and tell you if it was accepted or denied. If it was accepted they will offer you an amount for this article and you can accept or deny.
2. You also get paid by performance, which currently pays you a baseline rate of $1.50 for every thousand page views your content receives. This is raised later on when you start getting more and more page views.
Stay tuned cuz the minute my article goes up on the site, I'm going to post the link and you can check it out and let me know what you think!

Join Associated Content now and start writing for cash today!

My real name is Reanna but around the web, especially in the MMO (make money online) world, I'm referred to as TriNi. On this blog, I aim to teach people that it CAN be done; that there are legit and 100% free ways to make money online.