Looking for the best PTC (paid to click) site to make money online?
Here's my recommendation: YouData
Here are my past two payments for the last couple of weeks gone by.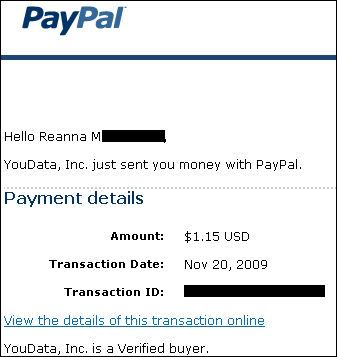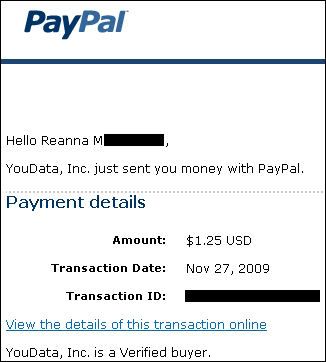 This is my 29th and 30th payment from this site.
This site is probably the one I spend the least effort on and just by clicking a couple of ads for the week, it really ads up.
They are by far the highest paying PTC (paid to click) site that I could find on the internet, that's NOT A SCAM and that pays you in cash!
There are several other sites out there claiming to pay $1 and $5 per click. These sites you need to beware of! They either usually have an extremely high cashout like $1000 (which they'll vanish into thin air by the time you reach it), or they do not pay in cash and you can only cashout via free advertising (which is only stated in fine print way at the end of their terms of services).
If you find a site that pays you $1 to click an ad and you've actually been paid in real cash by them, please tell me, I'd like to join as well.
But for now, I'm sticking with YouData – The best PTC site.
These two payments brought my total earnings online to $3823.81!

My real name is Reanna but around the web, especially in the MMO (make money online) world, I'm referred to as TriNi. On this blog, I aim to teach people that it CAN be done; that there are legit and 100% free ways to make money online.