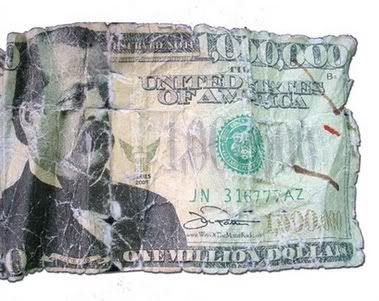 I recently read a couple of posts by other bloggers, (which I will include links to at the end of this post), and they inspired me to do this post about the best way to make money online.
Throughout the time I've had this blog, I've had several people approach me and ask what's the best way they can make money online. They always want to know which way it is that I make the most money and should they start there as well.
The truth is, there is no best way to make money online.
There are so many ways to make money at home on the internet, you just really need to find something that works for you and stick to it!
Today I'm going to post a few more ways you can earn money free online, and how to find which one is best for you.
If you know a lot about a certain topic (niche), you can create a free niche blog, and develop your blog into a great passive income by monetizing it with Google Adsense, sell ad space on your blog privately, or even benefit from Affiliate Marketing using CPA campaigns on your blog or site. The important part would be getting traffic to your blog or site. Not just any kind of traffic either, but targeted traffic; the best kind being organic search engine traffic. However, the good part is that you would not need to worry much about creating content for your blog because it would come naturally to you if this is something you love.
On the other hand, if you prefer taking surveys and giving your opinion, then you might want to consider free cash paying survey sites or focus groups as a means to make money at home in your spare time. Taking a few surveys per day or per week probably won't get you rich, but it can definitely be a decent amount of extra cash that would help towards bills, etc. There are a few good survey sites online that you'll find with a quick Google search. A rule of thumb to use would be to NEVER pay to sign up with any of these sites. The legit sites are ALWAYS free to join. Two survey sites that I make free money online with are Pinecone Research and SurveyHead.
If you prefer writing articles about given topics, you can consider freelance writing. There are sites online such as TextBroker.com and Elance.com where you can sign up free and get paid to write articles or create content about certain topics. If you prefer coming up with your own topics, you can make money writing and publishing your own content on sites like Associated Content, Hubpages, and Squidoo.
If you prefer writing an entire novel than just a one page article, it is very easy to create and publish your own book and get it distributed on Amazon.com. CreateSpace has free online publishing tools and a community that can help you complete and sell your work on Amazon.com, your own website, and other retailers without setup fees or inventory.
Selling on Ebay and Craigslist is very popular when it comes to making some extra money. Many people use these two sites to sell old things around the house that they may no longer need… but have you ever considered selling your knowledge?
Most people are knowledgeable in at least one topic or niche! For example, if you're a mechanic, you can consider creating an ebook about "How To Fix Simple Car Problems Yourself" and selling it online on sites like PayLoadz.com. This can work for any topic or niche such as knitting, cooking, etc. Everyone has at least one thing they're good at. You can use yours to make some extra cash.
Expanding on the niche idea, if you are a teacher, you can also make money online selling old material you may no longer use in class, or creating new and original material and selling it to other teachers on TeachersPayTeachers.com TeachersPayTeachers is "an empowering place where teachers buy & sell original and used teaching materials and make teaching an even more rewarding experience!"
There are also other sites you can sell things.
eCRATER.com is both a free web store builder and a free online marketplace. You can easily create your own free online store in minutes. You also receive free website hosting, a free subdomain and a powerful admin tool to manage your free online stores. All products from eCrater are posted to Google Product Search as well. This is a great way you can sell almost anything!
Use your creativity to make money online.
Are you good at handicraft or art? Etsy.com is a site that's designed to connect buyers with sellers of all things handmade. If creating things from scratch is your forte, then you can make a small fortune at this site setting up your Etsy store and selling your handmade creations online.
If graphic design is more your thing, you can create original images or designs on the computer and have them printed on t-shirts, hats, bags, and dozens of other products and sell them in your own online store at CafePress. You can also make money creating logos for new companies, and one of the most popular places to find this type of work is the DigitalPoint Forums.
Another creative option that has become very popular in recent times as a way to make money is Domain Flipping. This is simply buying and selling domains. Can you imagine how much money the domain MakeMoneyOnline.Com would be sold for? A lot. There are also a ton of other domains that would probably go for a lot of money. If you can use your creative ability to come up with a domain that's not yet owned, you can purchase that domain from places like GoDaddy. Then you can resell that domain for much more than you paid for it and make quite a profit! There are a lot of forums online such as DigitalPoint Forums and NamePros that dedicate entire sections to buying and selling domains, domain auctions, etc.
I did a post way back called Other Ways To Make Money Online, where I also talked a bit about Google Adsense, affiliate marketing, focus groups, freelance writing, doing odd ends, and selling old electronics, jewelry, and even hair!
It's a very informative post and I recommend you read it if you get the chance.
I would also like to give thanks to The Information Lady, and Daniel Scocco at Daily Blog Tips, for inspiring this post of mine.

My real name is Reanna but around the web, especially in the MMO (make money online) world, I'm referred to as TriNi. On this blog, I aim to teach people that it CAN be done; that there are legit and 100% free ways to make money online.