One of the most frequent questions I get asked is, "What is the best way to make money online free?"
And my answer is always the same. There really is NO best way!
It all depends on what you're good at, what you enjoy doing, what you're passionate about.
For example, the following proof of payment is from a site called Squidoo. Squidoo is a site where you are given a blank canvas (lens) and you create it to make it what you want to be. The more information you write (keyword rich content) and the more attractive you make it (html) etc, the higher it gets ranked by the Squidoo team.
So how can you make money with Squidoo?
Well you're given the opportunity to monetize your lens with Google Adsense. And the more traffic your lens get, the more clicks your ads get, and then the more money you make. Squidoo takes a cut of the revenue and gives you back some as well.
There is no limit on how many lens you're allowed to create. So if you can create 100 lens that each make you $1 a day, that means you'll be making $100 a day. Nice eh?
Give it a try! If writing is your thing, this can be a great outlet for you to express yourself as well as make some money!
Do a quick search around Squidoo and you'll find tons of tips on how to create your lens, how to monetize, how to format HTML, etc.
A lens you create today, can make you some money tomorrow… like mine has been doing.
I received the following payment in the month of May! It's for a lens I had created a while back that recently picked up in rank on Google and started bringing in a bit of traffic for me.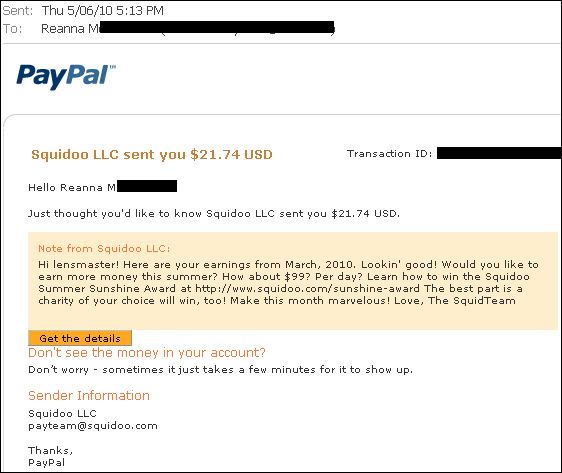 This payment brings my total earnings to $6989.16!

My real name is Reanna but around the web, especially in the MMO (make money online) world, I'm referred to as TriNi. On this blog, I aim to teach people that it CAN be done; that there are legit and 100% free ways to make money online.