Well my week off from work is coming to an end, so I'm trying to get as much done on this blog as I possibly can. I hope all my readers had a great week, and that with a few of the posts I made this week, I inspired some of you to do something to make some extra money online. As you can see, the possibilities are endless, and regardless of what talent you have, or what it is you like to do, there's a market for it online. Take advantage of it.
Anyway, today I'd like to talk about two sites that I've gotten payments from recently.
Cashcrate which I always credit for the first site I ever started making money online with, paid me earlier this month via direct deposit, for my earnings in January. They also sent me a $10 Amazon gift card in the mail, which I redeemed my points for on the site.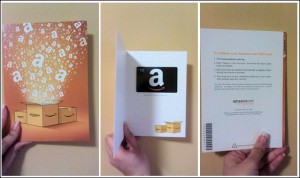 You can click on the images for a larger view. It opens in a new window. These two payments add up to $43.27.
I've mentioned several times before, the things that I really like about this site, including the fact that they're always looking for new ways for their members to make money. For example, they recently launched "paid check ins" and "video rewards" where you get paid to watch vidoes, ads, movie trailers, etc.
Cashcrate is open to international members, however there might not be many surveys for those outside of the US to take. However, the Cashcrate referral system is awesome and a lot of international members make hundreds a month by utilizing it!
Another site that I have really enjoyed lately, is Zoombucks. I introduced them as a site just like Swagbucks, however, there really is much more to this site. Besides getting paid to search, you can earn "zoombucks" for doing other simple tasks, offers and surveys, and several other things… including playing games!
I've received two $10 Amazon gift cards from Zoombucks recently.
Here are screenshots of those. Again, feel free to click on the images for a larger view.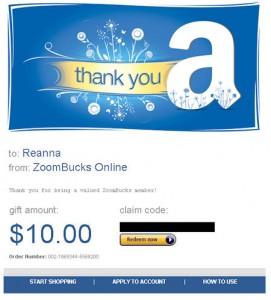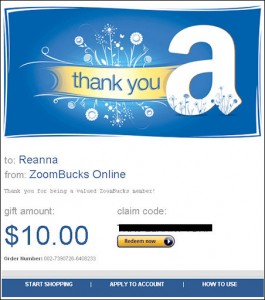 These payments have a combined total of $63.27, and bring my total earnings online to $12,384.34!
Stay tuned, because I have several other payment proofs to post in just a little bit.

My real name is Reanna but around the web, especially in the MMO (make money online) world, I'm referred to as TriNi. On this blog, I aim to teach people that it CAN be done; that there are legit and 100% free ways to make money online.