So at least there's one reason for me to smile today.

Thank you CASHCRATE.COM!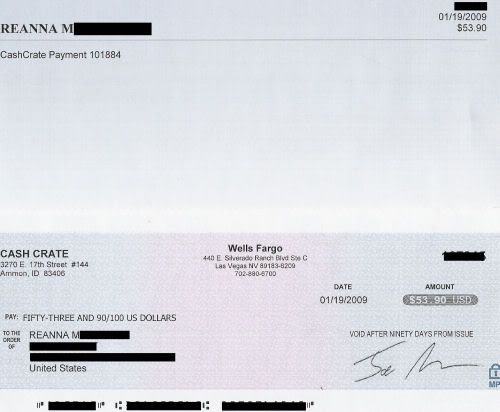 As always the picture might seem a small due to blogger resizing but click on it for full view!
That brings my cashcrate total since I've joined on October 26th 2008 to $111.62! And I'm not complaining. This is totally something I stumbled upon and do completely in my spare time so I'm loving the extra money! Get paid like me!

JOIN HERE!.
Off to get me dinner now! Maybe I'll update again later!
PS. I'm still in pain. Ughh! I'm begining to hate snow


My real name is Reanna but around the web, especially in the MMO (make money online) world, I'm referred to as TriNi. On this blog, I aim to teach people that it CAN be done; that there are legit and 100% free ways to make money online.