With the month coming to an end, I definitely have a few important "make money online" posts coming up, which includes all the payments and my total earnings for the month of March.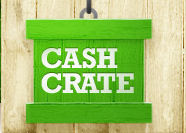 However, today I just wanted to talk about a few new features Cashcrate has been rolling out again. If it's one thing I like about this site is that they stay on top of their game. They are always coming up with innovative and fun ways for their members to earn money.
Here are a couple of the new things going on over at Cashcrate:
They launched a toolbar where you can get paid to search, along with other cool things
First of all, you earn $1 bonus just for downloading the new toolbar! It's guaranteed free of spyware, if that's what what worried about.
It's simply a toolbar to keep you updated on you Cashcrate account with the touch of a button. A few things you can do from the toolbar are:
-View your current earnings.
-Daily Check-Ins are just a click away, making it even easier to earn your check-in bonus every month!
-Keep an eye on new messages, and new offers!
-Easily navigate to every area of the CashCrate site.
-Get paid for shopping at partnering merchants.
There is also a search bar that awards you with a $.50 bonus for every additional 25 qualified searches you do! Qualified means that you should search naturally, as you normally would. Perform real searches for things that you are interested in, look at the results as you normally would, don't perform meaningless back-to-back searches, etc. There is a limit of 10 qualified searches per day.
For now, this feature is only available to US members, however, they are working on making it available to other countries as well.
Video contest announced for the month of April!
I did a post a while back about the new feature where you can get paid to watch videos on Cashcrate. Watching videos is a really fun way to make money. See previews for new movies, music videos, great commercials from brand name companies, entertainment news, and more.
Well in April, apart from getting paid to watch the videos, each video you watch is an entry into a raffle contest. There are 15 prizes of $10, and all you have to do to enter is watch videos… which you get paid to do anyway!
I really like this contest because it's such an easy way to have a chance at earning cash, and also it's fair to everyone regardless of if you're a new or an old member.
The more videos you watch, the better your chance of winning a prize!
If you're not yet a member of www.Cashcrate.com, you're really missing out on a great chance to make money online, with an awesome community of people just like yourself. Join Cashcrate FREE, and visit the forum after you do. You're guaranteed to find some tips and tricks on how to maximize the site, and make some friends along the way!

My real name is Reanna but around the web, especially in the MMO (make money online) world, I'm referred to as TriNi. On this blog, I aim to teach people that it CAN be done; that there are legit and 100% free ways to make money online.