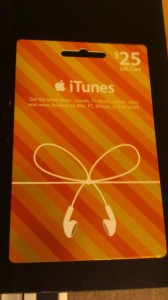 I'm sure some of you have iPods and iPhones, and even iPads! I'm selling an iTunes gift card that I got for Christmas and I have no use for. You can find it on eBay here: $25 iTunes GiftCard On Sale For $20!
It's valid only in the iTunes Store for US, and can be used to download the latest music, movies, TV shows, games, apps, and more. It's a great deal and it's brand new and unscratched! After I receive your payment, I will scratch the back and give you the code via email.
I'm sure there's someone out there that's probably interested in saving some money.

My real name is Reanna but around the web, especially in the MMO (make money online) world, I'm referred to as TriNi. On this blog, I aim to teach people that it CAN be done; that there are legit and 100% free ways to make money online.