I've talked a lot about how you can make money online with Facebook through an application called Cloud Crowd.
They usually have very simple tasks that only takes about a few minutes of your time and you can earn money in your PayPal account.
The best thing about doing this kind of work is that it's very flexible and you can work on your own time from home. You can do as little or as much as you'd like, and make money and get paid.
I've received two recent payments from Cloud Crowd and even though it's not for a lot, every little bit adds up.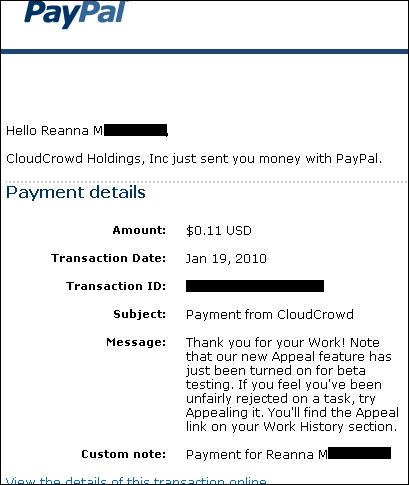 These two payments add up to $0.71 and bring my total earnings online to $4943.13!

My real name is Reanna but around the web, especially in the MMO (make money online) world, I'm referred to as TriNi. On this blog, I aim to teach people that it CAN be done; that there are legit and 100% free ways to make money online.