Hello December.

Where does the time seem to be going this fast huh? Don't you feel stuck in a routine sometimes, like the days just seem to be passing you along and everyday you wake up and do the same thing, over and over and over and over again.
I sure feel like that sometimes.
However, one thing I never mind seeing is money in my PayPal account over and over and over again. Yup, I never get tired of that. Making money online is a lot of fun, especially the getting paid part.
Here's another payment I cashed out at the end of November and received the money instantly in my PayPal account.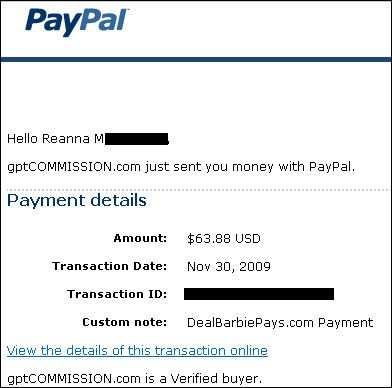 This payment is from Deal Barbie Pays where payout is instant via Paypal. Instant meaning instant; as in, the moment you click the withdraw button, the money is in your Paypal account.
This is $63.88 in free money towards my total balance online, which by the way, now stands at, $3913.54!

My real name is Reanna but around the web, especially in the MMO (make money online) world, I'm referred to as TriNi. On this blog, I aim to teach people that it CAN be done; that there are legit and 100% free ways to make money online.