Hey everyone!
This is just a quick update to let you guys know that the winner of the Help Me Win A Scholarship And You Could Win $10 via Paypal! contest has been paid!
Here's a screenshot as proof!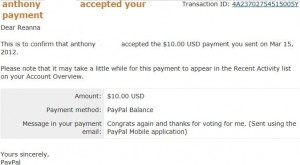 Thanks again to all those that voted for me in the scholarship contest, and liked and tweeted my blog.
Stay tuned, I just might have some more contests up my sleeve in the future.
For now, I'm still swamped with college papers to write. I apologize for not being around often enough. Hopefully in time that will change.
I know I have tons of posts to catch up with, including several total earnings posts. My income did drop over the last few months due to several factors, including Panda and the fact that I have no time to work on SEO for my blog anymore, however, I still make a bit of extra change from this blog and it comes in handy so I don't plan on shutting down my blog any time soon.
Have a great weekend guys!

My real name is Reanna but around the web, especially in the MMO (make money online) world, I'm referred to as TriNi. On this blog, I aim to teach people that it CAN be done; that there are legit and 100% free ways to make money online.