Ever got scammed by a product or service online that promised to make you money? Here's your chance to tell the world about it. IM Report Card gives regular people like you and me the chance to share our experiences with products and services, and even people online, that promise us we'd make money with whatever they're promoting.
This is also a great site to learn of new ways to make money and which products are worth the initial start up capital. Read real reviews by real people and share your own. And the best part about all this is you get paid to do so. Get paid to write reviews about sites, products, services, people, etc, that you have probably used to make money online.
Here's another recent payment from IM Report Card.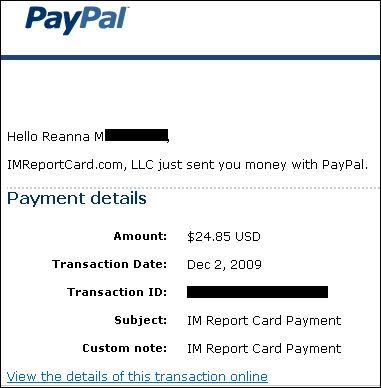 Another payment that adds to my total earnings online and brings it to $3939.23!

My real name is Reanna but around the web, especially in the MMO (make money online) world, I'm referred to as TriNi. On this blog, I aim to teach people that it CAN be done; that there are legit and 100% free ways to make money online.