I post a lot about paid survey sites, and one of my favorite sites to make money by taking surveys online is Pinecone Research.

Today I'm going to post about another very reputable survey panel, called GlobalTestMarket.
The problem most people have with survey sites are that they think it is a scam. Why would someone pay you to complete a survey? Well these paid survey sites actually act as a middle man. They offer their services to big companies such as Coke and Pepsi, to find people to give their opinion on their products. In return, these companies pay the survey sites like GlobalTestMarket, and then they pass on a portion of that payment to you! That is how it works. It is no scam, and definitely a legit way to make money online in your spare time.
GlobalTestMarket is a well known company, and trusted among many. It was founded in 1999, and is one of the world's leading providers of market research. It serves more than 1400 clients in more than 60 countries worldwide, and provides a global solution for companies that wish to conduct online consumer research across multiple countries.
It is 100% FREE to sign up to GlobalTestMarket, and you will receive online paid surveys about:
* Movies
* Restaurants
* Automobiles
* Consumer products
* Current events
* Many other topics that interest you!

Earn Money!
GlobalTestMarket will reward you for every online survey you complete. GlobalTestMarket rewards MarketPoints as well as sweepstakes entries into daily and monthly cash drawings. Once you reach 1,000 MarketPoints, you can redeem your balance for $50 U.S. dollars. Sweepstakes winners will be contacted directly to claim their cash prize.
Taken straight from the website:

You will never receive unsolicited email as a result of joining GlobalTestMarket. Your personal information is kept 100% confidential, and your online survey responses are anonymous and used only for the sole purpose of market research.
Am I eligible to join?
You are eligible to join the GlobalTestMarket consumer panel if you reside in one of the 43 supported countries. To join on your own, you must be at least 18 years of age. If you are between 14 and 17 years of age, you must have parental or legal guardian permission. View our Terms of Use.
Is GlobalTestMarket available in my country?
The GlobalTestMarket community is proud to be present and have members in the following 43 countries:
Argentina
Australia
Austria
Belgium
Brazil
Canada
China
Colombia
Czech Republic
Denmark
Finland
France
Germany
Hong Kong
Hungary
India
Indonesia
Israel
Italy
Japan
Korea, South
Malaysia
Mexico
Netherlands
New Zealand
Pakistan
Norway
Philippines
Poland
Romania
Russia
Singapore
South Africa
Spain
Sweden
Switzerland
Taiwan
Thailand
United Arab Emirates
United Kingdom
United States of America
Venezuela
Vietnam
After signing up, be sure to confirm your email in order to activate your account.
Also make sure to complete your profiles! These give you more opportunities to qualify for more surveys, and upon completion of each one, you also get 3 sweepstakes entries!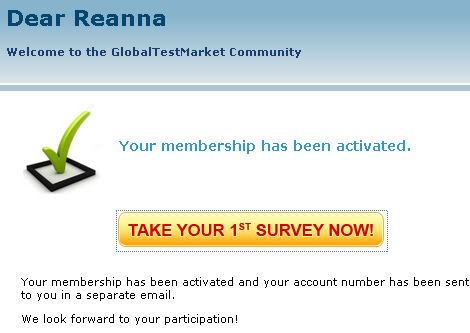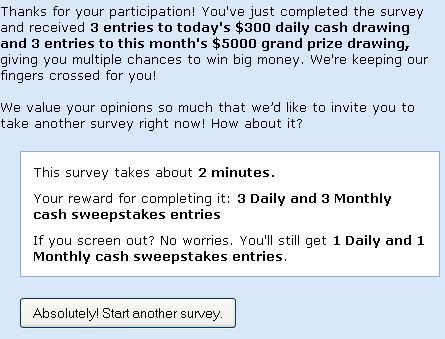 The daily drawing is worth $300 U.S. and the monthly drawing is worth $5,000 U.S!
This is one of the best known survey sites online to make money.

My real name is Reanna but around the web, especially in the MMO (make money online) world, I'm referred to as TriNi. On this blog, I aim to teach people that it CAN be done; that there are legit and 100% free ways to make money online.