GPT (get paid to) sites, are a great way to make money online in your spare time. There are many GPT sites online, but I tend to recommend the most popular and most established ones here on my blog… only because of their history of paying their members, and their stability within the GPT industry.
What you do on these sites are various tasks such as completing free offers/surveys, trying new free or paid products or services, playing games, clicking ads, etc… and you get paid to do it.
Different sites offer different things, and in fact, depending on where you're from around the globe, there might be an advantage on certain sites.
Eg. Cashcrate is one of my favorite GPT sites in the industry. It was the first site I ever joined, and I continue to stand by it all the way. I've made the most of my money here. However, if you're an international member (outside of the US), you may have less offers available to you. This DOESN'T mean that you won't be able to make money on Cashcrate, but you'll probably have to find other ways to do so, such as referring others to the site and helping them earn.
If referring isn't your thing, you might want to look into sites like Dollar Click or Sign Up which also has offers to complete etc… but also PTC (paid to click) ads for every member, regardless of country. Also since this site pays via PayPal, and minimum cashout is only $1, it is more than likely to get paid within a week or less!
Dollar Click or Sign Up is a 100% legit site, that will pay you! In fact, here's a recent payment I received from them, for my work completed last month there.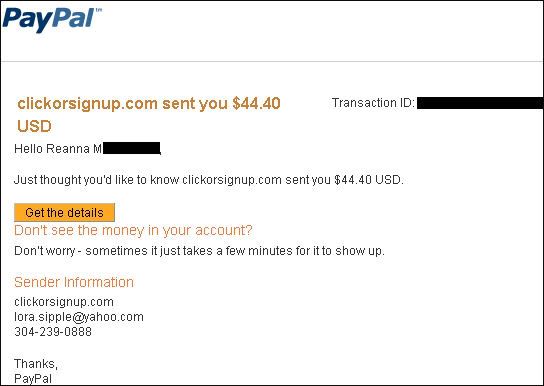 This payment brings my total earnings to $5914.94
If you are from the US on the other hand, and looking to sign up at a site, I recommend joining both Cashcrate AND Dollar Click or Sign Up!
This month is Cashcrate's fourth birthday, and they're having huge giveaways every single day!
There are some really great referral bonuses this month. Here's the original quote taken from the site itself.
"For Bronze Members (less than 50 active referrals) – We'll send you a free $10 Amazon Gift Card when you refer 10 active members or more over the month of March!
For Silver+ Members (50+ active referrals) – On top of the free $10 Amazon Gift Card, you'll also see your normal $1.00 bonus jump to $1.25 when you refer 25 active members in March. And when you refer 100 or more new active members, your bonuses will be increased to $1.50!"
And if referring isn't your thing, there are Amazon Giftcards being given away all day everyday for the entire month of March! Here's the official details:
"$10 Amazon Gift Cards will be given away all day, every day. Raffles will be held four times a day at 9 AM, 2 PM, 7 PM, and 11 PM EST. To gain entries into the raffles, just complete offers as you normally would. Every offer you complete acts as an entry into the raffles for that day and will stay alive until your name is drawn or the day ends."
Oh and by the way, if you got this far down in my post, I'm getting married on May 8th, 2010 in Las Vegas!
*As an update to this post, here is a list of paid survey sites that is updated often with earning opportunities for International Members (outside the U.S.)*

My real name is Reanna but around the web, especially in the MMO (make money online) world, I'm referred to as TriNi. On this blog, I aim to teach people that it CAN be done; that there are legit and 100% free ways to make money online.