Even though I've been slacking and side tracking lately with my "Vegas Wedding", I'm back in New York now and ready to make money online!
Now more than ever, where I'm about to begin a new life of my own with my husband; find an apartment and actually pay some bills, I need the money! So while I've been running in circles figuring out my new life, I'll try my best to keep up with this blog and the sites I use to make money online, because honestly, that extra income has been extremely helpful so far… and now more than ever, I need the money!
Before I left, and while I was gone, I continued getting payments for previous work I've done on some of the sites I use, so today I'd like to post those payment proofs.
Why do I post payment proofs every time I get paid?
There are so many sites that claim to make money online, in fact wayyyy more than I do, but they never actually post the proof so you can see. I decided I wanted this blog to be exactly what it's called – A Testimonial. And that testimonial will include proof. Continuous proof that making money online is indeed possible, and if I can do it, then so can you!
So here are two payments I received from Dollar Click or Sign Up. This site has continued to pay me as long as I've been a member and I really enjoy working as moderator on the forum. The members are very friendly and helpful, and we enjoy making money online together.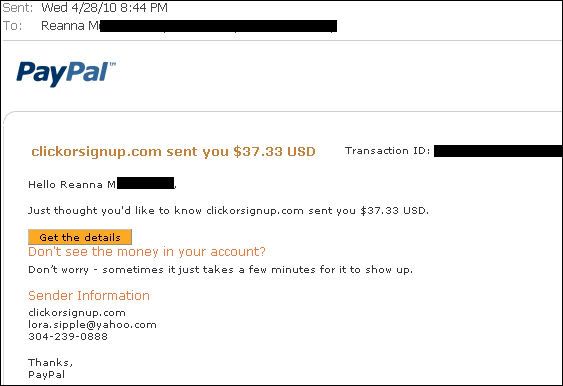 This is my 8th and 9th payment for March and April respectively, and that's $68.44 I didn't have before. Brings my total money online to $6596.54!

My real name is Reanna but around the web, especially in the MMO (make money online) world, I'm referred to as TriNi. On this blog, I aim to teach people that it CAN be done; that there are legit and 100% free ways to make money online.