So I am finally able to say that Make Money Online Free is no longer a freely hosted blog. I am now using my own hosting, via HostGator. But if things look a little different, you're not going crazy.
I did in fact have to switch over from Blogger to WordPress in order to apply the hosting.
The support team at HostGator who were supposed to do the switch for me, replied to my support ticket and said that Blogger (blogspot) does not provide any kind of FTP access to their servers and that I'd have to switch over to WordPress in order to get the hosting working.
Imagine how stressed I was! This was the exact thing I had been fearing in the beginning!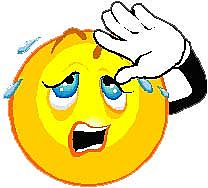 I spent the entire day today, from the minute I finished having breakfast, to now… 9PM at night, trying to figure out how to switch over everything from Blogger to WordPress. It was definitely no easy task. Seemed like everywhere I looked, I read different instructions on how to do this.
I know there are a few friends out there who are trying to do the same thing I have just done, so I will attempt to give some instructions on how I went about doing it, and hope it helps some of you!
Here's what I did to transfer my Blogger blog to WordPress in order to use Self Hosting:
1. Change the NameServers on wherever you purchased your domain. For me, this was Godaddy. My nameservers were previously pointing to Blogger. I changed them to HostGator's nameservers which I got in the "New Account Info" email sent by HostGator.
2. Then I logged into my HostGator account, and used the Fantastico De Luxe software provided by HostGator, to install WordPress on my blog.
3. I was then able to go to my 'domain.com/wp-admin.php' and log into my WordPress Dashboard.
4. I then had to log into my Blogger.com dashboard, and go to Settings> Publishing and switch my publishing from my own domain, to the blogspot domain.
5. Then, I went into Tools> Import > Blogger and followed the directions to complete the import.
I'm happy to say that the import was successful and all 400 of my old posts and my 982 comments were all transferred!
However there are a few downsides to the switch:
1. My Blogger blogroll wasn't transferred. Therefore, all the people that I linked to in my blogroll has been lost. If you were one of these people, please contact me so that I can add your link to my new blogroll here on WordPress!
2. Most of my permalinks are now different. This affects me GREATLY! While my main URL ranks highly for it's keywords on Google, there are also several of my individual posts that rank highly as well! Now with the permalink being changed, these links would no longer work. If there is anyone out there that knows how I can fix this, please comment and help. I'd greatly appreciate it!
3. I'm still in the process of tweaking the look of my blog. I definitely want to keep the same "pink" theme, since that's sort of like a trademark for me… but obviously I cannot get the same exact layout as I had on Blogger, so I'm in the process of trying my best to get something similar. Be patient with me.
That's about it for now. It's pretty late and my retinas are burnt out from figuring out this whole thing. So I'll try to do a bit more tomorrow or later in the week. I'm hoping this whole switch doesn't affect my SERP ranking in general, but I guess we'll see how that goes.
Goodnight folks!

My real name is Reanna but around the web, especially in the MMO (make money online) world, I'm referred to as TriNi. On this blog, I aim to teach people that it CAN be done; that there are legit and 100% free ways to make money online.