I can't believe I've come this far!
Look at this!
Now if you've been keeping up with my posts, you would have read that my goal for this month was to make $100 of combined online earnings! I can't believe I've made it with just Cashcrate alone! I can't wait for next month…..
And as if that wasn't sweet enough.
Today I won $5 and 45 signs on Deal Barbie Pays. Look at the screenshots below!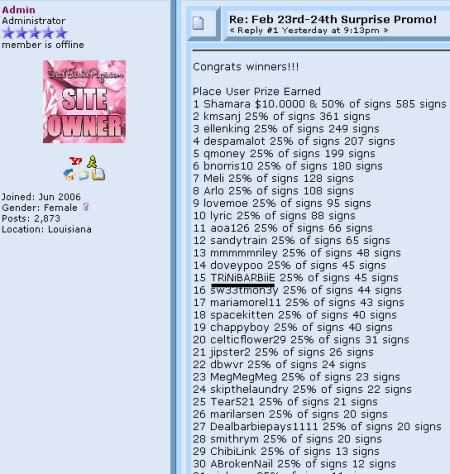 That brought my earnings for the month there to $55.62 and 303.75 signs!
If you haven't gotten started on this yet, you're really missing out a great opportunity to make some extra cash. Now that I'm not working anymore, I'm sure I can find a ton of things to do with that money!
Click the banners below and sign up FREE!
Good luck!

My real name is Reanna but around the web, especially in the MMO (make money online) world, I'm referred to as TriNi. On this blog, I aim to teach people that it CAN be done; that there are legit and 100% free ways to make money online.