TOTAL COMBINED EARNINGS UPDATE FOR THE MONTH OF FEBRUARY: $48.71
So I was kinda M.I.A. today because I took the entire day to do offers and surveys on Deal Barbie Pays.
Well, maybe not the ENTIRE DAY because I did get up like 12pm and then I was on the phone pretty much for a good part of the afternoon. Then I took 2 hours from 8 to 10 to watch American Idol, which I must say I'm upset the judges didn't let Jamar Rogers through, yet that squeaky voice annoying over the top dramaqueen Tatianna girl made it to the top 36. UGH!
But anyway, I digress.
So today, I did offers on Deal Barbie Pays for a maybe a good 2 or 3 hours in the evening. They had an amazing promo today where you got a $2.00 bonus for EVERY 10 offers completed. Needless to say, I already made payout on that site.

And now the rest of the month is just gravy. I also had some fun playing the Deal Wheel and I think I might be addicted! I won 10signs the first time and 25signs the next. Too bad you're only allowed to play twice a month, and well, I've already used up my two times for February.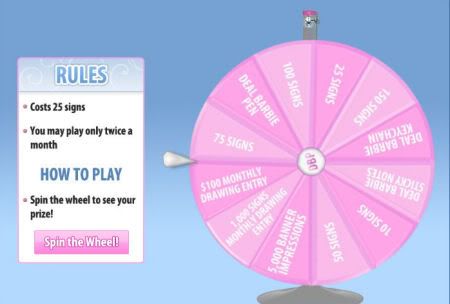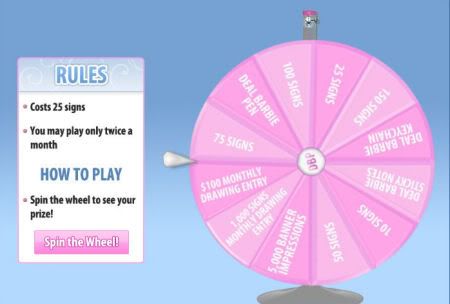 If you haven't signed up yet, don't think you missed out because they still have alot more contests for this month. Infact there's one starting tomorrow.
Contest Starting Tommorrow-
Feb 12th 12:01am EST – Feb 16th 9pm EST
Completion Contest
Complete the most offers & win!
Prizes- $20, $10, $5
So sign up at Deal Barbie Pays and start earning today!

My real name is Reanna but around the web, especially in the MMO (make money online) world, I'm referred to as TriNi. On this blog, I aim to teach people that it CAN be done; that there are legit and 100% free ways to make money online.