This review was posted when it WAS possible to make money on IMRC. They have stopped paying cash to members. Instead they offer "marketing tools and ebooks" for the credits you earn on IMRC. If you're looking for a way to make money online, then I would suggest looking for another site to sign up with, because this one no longer pays!
When you type in IM Report Card into google, the suggestions in the drop down menu are "im report card scam", "im report card review" and "im report card legit". Today I'm here to give you my review of IM Report Card and have you know that it's 100% legit and not a scam!
I have been paid over 20 times from IM Report Card. If that doesn't say that they are legit, then I don't know what does.
But don't sign up to IM Report Card just to make money, you NEED to use the site the way it was designed to be used and actually give your experiences with the products, services and people listed. If you post false comments, more than likely the admins will catch up to you and you WILL be banned from the site.
IM Report Card has been one of my biggest earners but I've also learned quite a few new things from reading the experiences of others, and I've also met some new people who are interested in the same niche as I am.
Networking with others in your niche is very important to making money online.
For more about IM Report Card that I haven't covered in this post, feel free to read What Is IMReportCard?
Here's my latest payment from this company.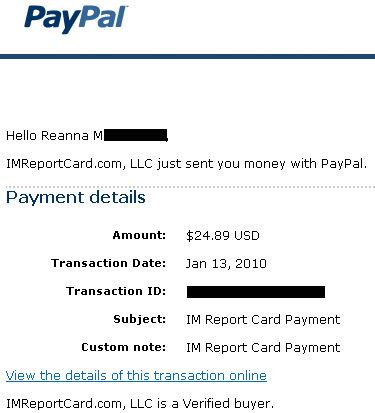 This payment brings my total earnings online to $4809.17!
Sign up at IM Report Card and make money at home by sharing your experiences of various internet marketing sites, products, people, etc.

My real name is Reanna but around the web, especially in the MMO (make money online) world, I'm referred to as TriNi. On this blog, I aim to teach people that it CAN be done; that there are legit and 100% free ways to make money online.