A long time ago, about two years to be exact, I did a post on Vindale Research talking about whether this company was a scam or whether it was actually legit. Within that time, I've promoted Vindale as one of the top paid survey sites on my "ways to make money online list", but I must admit that even within that time, from then to now, so much has been going on in my life that I never got the time to do surveys there, and so never met payout.
Their banners claim that you can earn up to $75 per survey, and I'm sure this sounds like a scam to you! Well it's actually not, but I agree that their wording is a bit misleading. However, to justify, they did put in brackets: Participation Required. These "surveys" that they claim you can earn up to $75 are actually trial offers or "product evaluations" as they refer to it (see below for a screenshot of the trial offers currently available to me).These are the same trial offers that you'd find on sites like Cashcrate, etc, and yes, they DO require a credit card. This doesn't mean that you have to pay anything! These are almost always free trials that have a grace period where you try the product for free, and as long as you cancel the service before the grace period ends, your credit card is not charged a cent. However, if you're like me and don't feel comfortable giving out your credit card info, or you're afraid you'll forget to cancel in time and be charged (like me), then I'd advise you to just NOT do these offers. There ARE other ways to earn money on Vindale.
Product Evaluations or Trial Offers found under the "My Surveys" tab on Vindale Research.

Vindale Research FREE Surveys that don't require a credit card. They can be found under the "My Studies" tab in your Vindale Research account.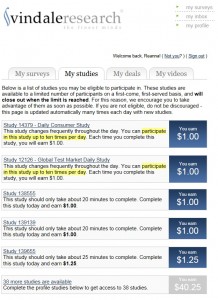 You can also earn extra cash for completing your profiles, which allow you to be qualified for more "studies" or free surveys, so it is highly recommended that you do it (even though I haven't gotten the time to do mine yet).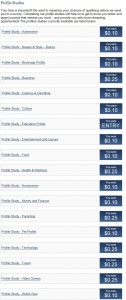 Here is my original post that explained a lot about how Vindale actually worked: Vindale Research: Scam or Legit? incase you need more information about this company.
Anyway, I have revisited Vindale a few weeks ago and was very happy with some of their recent updates and changes to the site. Here are few new things going on at VindaleResearch.com
First of all, they've added new ways for their members to earn! They've added "paid videos", where you can earn a few cents extra just for watching videos. Off course these only pay approximately $0.03 cents per video, so I would not recommend doing just this and trying to meet their payout limit of $50. This would take you more than 2 years.
NEW way to make money on Vindale Research by watching videos.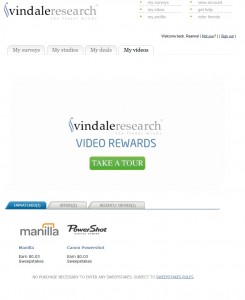 Another update I saw was that they now send out more Reward Emails. These are emails that are sent to your inbox and you get paid to read them. There is a link at the bottom of the email which you click on, to show that you have read the email. These are worth $0.05 each. These are an easy way to increase your earnings on Vindale, but again I wouldn't recommend relying on it to reach payout of $50.
Screenshot of what Reward Mail from Vindale Research looks like in your inbox: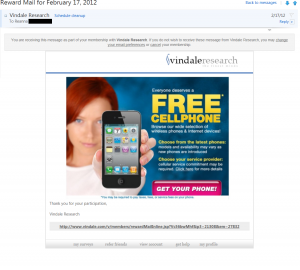 And last but not least, after you become a member of Vindale, be sure to like the on Facebook, follow them on Twitter, and keep up with their blog, because they have begun adding numerous contests where you can win cash!
Here's a list of the contest they've been doing for the month of February:
$10 photo contest. The topic: "Photo of something I love." Remember, only submit photos YOU have taken!
$5 Member of the month promo.
$2 Twitter Tuesdays.
$1 comment contests. Quickfire caption contests throughout the month.
$0.50 Twitter. Compete in our weekly contests.
$0.50 Facebook. Compete in our daily contests.
The best way to make money on Vindale Research is by doing a combination of all these things, evaluations, studies, watching videos, and participating in their contests via Facebook and Twitter. This will allow you to reach payout of $50 in about a month or two for the most I'd say… possibly much sooner.
Sign up at www.vindaleresearch.com today and start making money online in your spare time by taking surveys and trying products.

My real name is Reanna but around the web, especially in the MMO (make money online) world, I'm referred to as TriNi. On this blog, I aim to teach people that it CAN be done; that there are legit and 100% free ways to make money online.