Another easy way I've been making money on the internet in my spare time, is with Cloud Crowd.
Cloud Crowd is a Facebook app that connects people that want to work, with people that need work done. Companies use Cloud Crowd as the middle man, to find them workers willing to do simple tasks online, and then pays them for it.
Working on Cloud Crowd includes reviewing, categorizing, tagging, labeling, writing summaries, researching, data entry, proof reading, etc. Depending on which task you complete, you'll be paid accordingly. The work is usually quite simple and they always give you an example of what's required.
If you'd still like more info, feel free to read How To Make Money On Facebook With Cloud Crowd
It is very important that you sign up to be on their email list, because that's the best way to know when new work is posted.
Here's my 6th payment from them, it's only for 10 cents but that's because I haven't gotten the time lately to do A LOT of work there.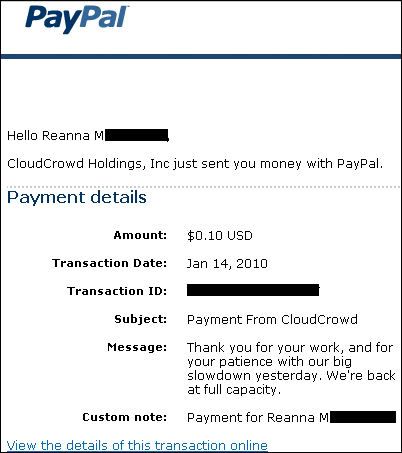 This is 10 cents I didn't have before and my new online total stands at $4784.28!

My real name is Reanna but around the web, especially in the MMO (make money online) world, I'm referred to as TriNi. On this blog, I aim to teach people that it CAN be done; that there are legit and 100% free ways to make money online.