As usual, I'm backed up on posting payment proofs! I guess you can consider that a good thing because it shows I'm getting paid more often than I have the time to post here, right?
So today, I'm going to catch up on some of those payments I've been getting for a while now. I can't go into detail again in this post, about how these sites work, but if you do a little digging around my blog, there is plenty of info about each one!
Let's start with Squidoo, which is a site that you can create a "lens" and monetize it using Google ads or Amazon affiliate links, and you get paid depending on how much traffic your lens get. It's very easy to get traffic with Squidoo, because they're so popular, and many times, a lens can rank highly on Google and other search engines for particular keywords.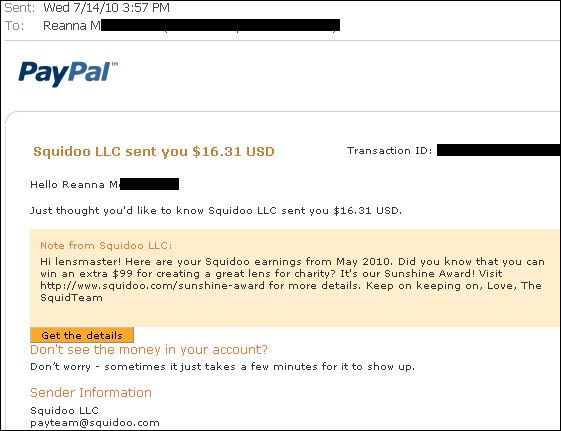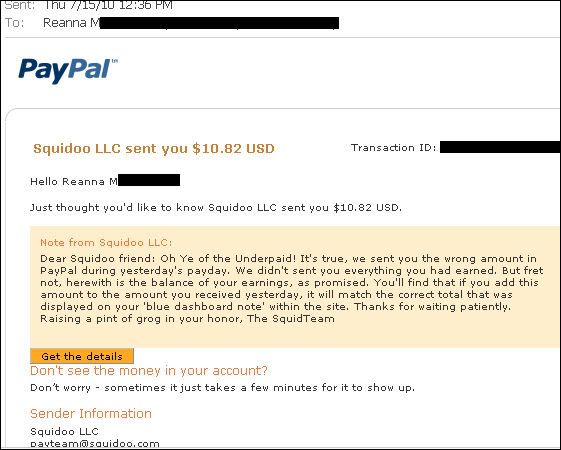 As you can see in the above payment, Squidoo made an error in my payment that month, which I didn't even notice until they sent me the corrected balance owed to me. This shows the honesty of this site, and that they really do pay.
Next in line, here are 3 YouData payments I received in the past 3 weeks. YouData is one of the best PTC (paid to click) site in my opinion, because they pay quite a lot more per ad than some of the other sites I've seen around. It's an easy way to earn a little extra money every month.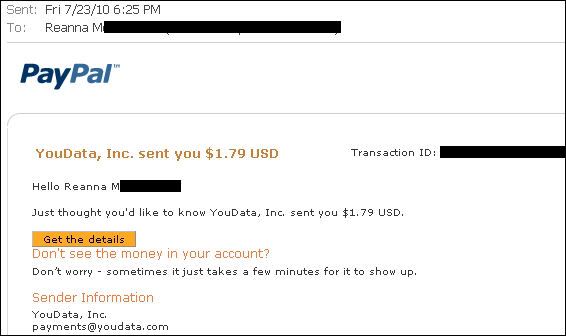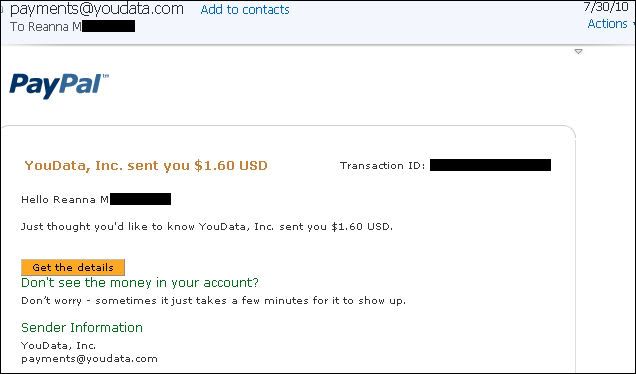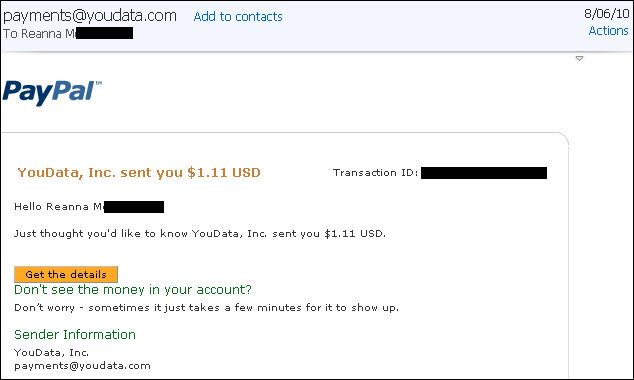 YouData pays via PayPal, every Friday!
Ok, let's talk about Swagbucks now. I've recently received 5 Amazon eGift Cards from Swagbucks.com. I really love this site, it's one of the easiest ways I have listed on my blog to earn. Just my searching online, which I'm sure you do every single day using Google, you can accumulate swagbucks which are like digital dollars (or points) that you can redeem online for prizes from the Swag Store. There is a wide variety of options in the Swag Store, including Amazon gift cards and Paypal Cash!
I usually redeem mine for cash since I'm not a huge Amazon fan, but I've recently found some awesome "bed in a bag" sets that I just have to get, so I decided to cash out for Amazon Gift Cards this time! We really need some new sheets in this apartment.
Here's a screenshot of the 5 giftcards in my Swagbucks account.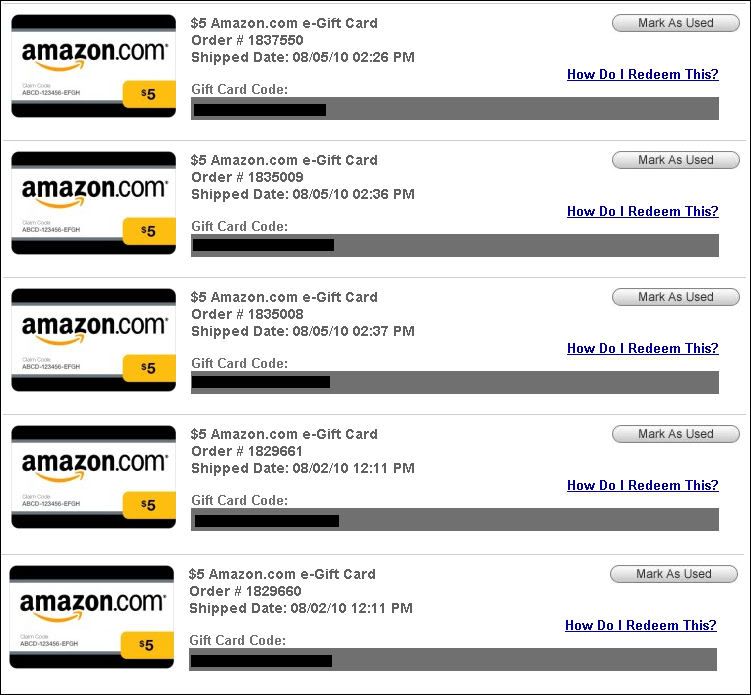 Swagbucks has a variety of ways to earn besides just searching, such as a Trivia game they play on Twitter sometimes, codes that are given out randomly, and tons of other ways as well. And recently, they've just introduced Swagbucks Surveys, where you get paid in swagbucks for completing surveys. I've recently just signed up, as you can see below. It's just another way you can earn more swagbucks!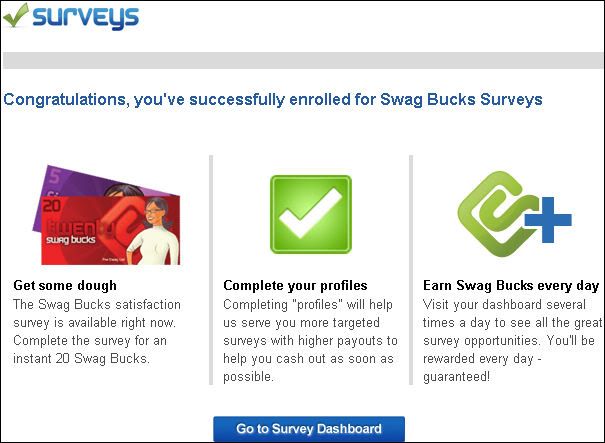 Ok lets move on to Cloud Crowd. Again, I'm sorry to seem as though I am rushing. Feel free to leave comments and ask about any of these sites and I will point you in the direction where you can get more info. However, right now I'm pressed for time and I must accomplish these payment proofs in order to do my "total earnings for July" post.
Cloud Crowd is a Facebook app that allows you to work from home and get paid via PayPal for doing simple tasks online. For more information on how this works, read: How To Make Money On Facebook With Cloud Crowd
Here are a couple of payments I've gotten from them. These are all from referrals since I myself haven't gotten a ton of time lately to do any work. However, referral earnings are very little compared to how much you can earn by doing the work yourself. There are tasks that pay up to $5 sometimes. If you can complete a few of these at once, you can make quite a decent chunk of change!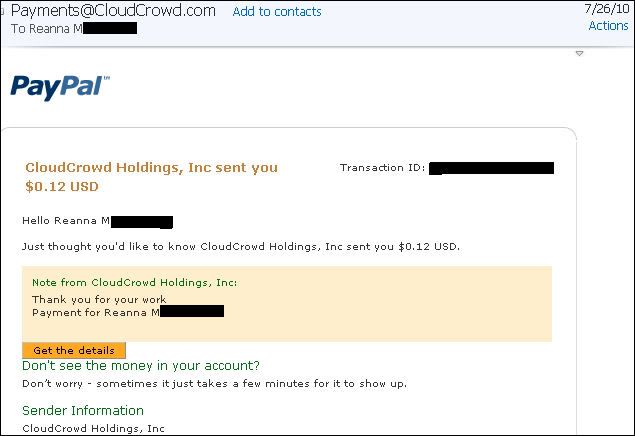 Now on to Pinecone Research, which is by FAR, my most favorite survey site to make money online. Not only are they quick to pay, and pay a fixed amount per survey, but they only send you surveys that you've ALREADY qualified for.. that means no annoying screening process to complete and then to find out that you don't qualify for the freakin' survey.
Ok so that's about it for now… I think.
That adds up to $62.79. Like I always say, every little bit adds up! This is an example of that. And this brings my total earnings online to $8543.19 in FREE money I've earned online.

My real name is Reanna but around the web, especially in the MMO (make money online) world, I'm referred to as TriNi. On this blog, I aim to teach people that it CAN be done; that there are legit and 100% free ways to make money online.