This post will discuss making money with paid to click sites.
If you're a frequent reader of this blog, Make Money Online Free – Testimonial of a Skeptic, you'd know that personally I am NOT a fan of ptc (paid to click) sites. There is only one paid to click site that I promote on this blog and that's YouData. It's the only PTC site that I ever found to be worth my time since they pay way above the average $0.01 cent that regular PTC sites pay. If you'd like more infomation on YouData feel free to read YouData – The best PTC site.
Anyway, today I'm here to compare another popular paid to click site called Clixsense with YouData. Notice, I didn't even bother using a referral link for Clixsense. Yes, they do have a referral program, but if I can't make money at a certain site, I'm not going to refer my readers to it.
Clixsense is a paid to click (ptc) site just like YouData where you get paid to click on ads. Over the weekend I received my payment from this site, Clixsense.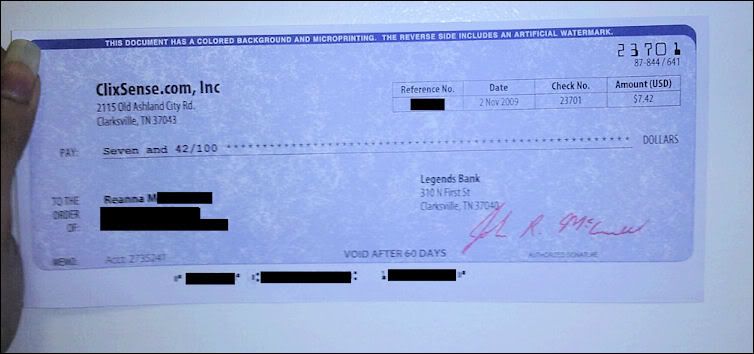 Click image for larger view, opens in a new window.
Is Clixsense a scam? Off course not, as you can see, the above is my proof of payment. However, here is my beef with this site.
I've been a member since March 21, 2009.
On March 22, 2009, I even paid the $10 fee and upgraded my account. Why did I do this? I was told that when you upgrade you get more ads to click on therefore you can make more money. Yes, I know this blog is meant for you to "make money without spending a cent", however that's the risks I'm willing to take. I would rather take the risk and pay the upgrade fee to prove to myself and you all whether a program or site really works or not.
After upgrading, I did get about 400 ads to click. Yes I said four hundred. But with each being worth a cent, that's nothing but about $4.00. Which is fine, because like I've said before, every penny counts when you're making money online free. But those 400 ads took me about 3 and 1/3 hours to click on. Yes I said 3 and 1/3 HOURS!
Here's a bit of math for ya:
Each ad requires you to wait 30 seconds before you can click on another.
400 ads x 30 seconds each = 12000 seconds.
12000 seconds / 60 seconds = 200 minutes.
200 minutes / 60 minutes = 3.33 hours.
After that 400 ads, since I'm not a fan of PTC sites and I do not log in every 5 seconds to see if there are any new ads because quite frankly, I have better ways to waste my time, I basically tried my best to log in to Clixsense at least once a day. I would therefore have about 4 or 5 ads to click daily, sometimes more depending on if I logged in at a lucky time in the day.
At this very slow rate, I became extremely frustrated with trying to make any money on this site! So why did I keep up with it? Why didn't I just cancel my account? Well I wanted my $10 back! So I decided to stick with it until I made that $10 which also happens to be payout on this site. This means that you aren't going to get paid until you make $10 or more in earnings. So if I had quit then, that 3.3 hours I spent clicking 400 ads would be a waste of my time since I'd never get that $4.00.
At the end of October 2009, I finally crossed the $10 mark. It took me 7 months. I had accumulated $10.42 in earnings and on November 2nd, 2009, my payment was sent out.
But wait… something isn't adding up here? Why is the check I received for $7.42?
Oh.. yeah.. Did I forget to mention that they have a $3 check processing fee?
So basically, 2 and 1/2 hours I spent clicking on ads went towards a check fee. Nice.
Do I need to explain to you why I have now canceled my account with Clixsense? Didn't think so.
With that said here is my 27th YouData payment.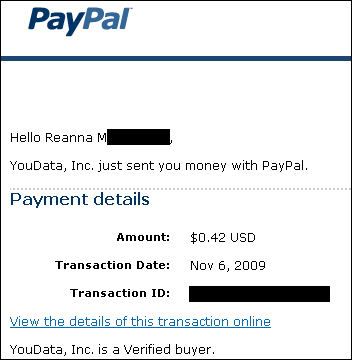 This payment brought my total earnings online to $3575.70.
I have been a member of YouData since May 2009, and I have earned $31.61 so far. That's more than 3 times the amount I earned on Clixsense in about a little more than half the time.

My real name is Reanna but around the web, especially in the MMO (make money online) world, I'm referred to as TriNi. On this blog, I aim to teach people that it CAN be done; that there are legit and 100% free ways to make money online.