These are some of the sites I use that usually pay me in small increments.
These are NOT sites you can get rich from, but if you're looking for legit ways to earn money online, a little at a time, these might do the trick for you.
Here is my most recent Cloud Crowd payment.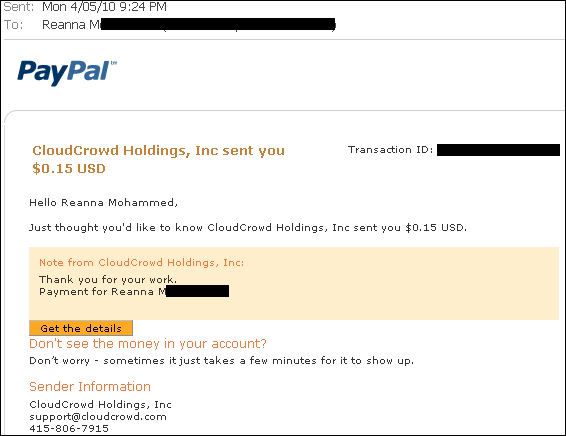 Read more about Cloud Crowd and how it works here: How To Make Money On Facebook With Cloud Crowd
Below is a payment from Pinecone Research, which is one of the best paid survey sites online, in my opinion.
And below are two "Friday" payments from YouData which is by far my favorite PTC (paid to click) site online! Read why here: YouData – The best PTC site.
All these minuscule payments add up to $6.22 and bring my total earnings online to $5964.73!

My real name is Reanna but around the web, especially in the MMO (make money online) world, I'm referred to as TriNi. On this blog, I aim to teach people that it CAN be done; that there are legit and 100% free ways to make money online.