Hey Happy Friday!

I'm sure you're just as happy as me about that and before I go about my weekend, I thought I'd post some more proofs of payments from money I've made online free.
Pay attention.
My YouData payment came again right on time last Friday, and I haven't gotten a chance to post until now. Here it is for $1.05 .. made within literally a few seconds of my time for clicking and viewing ads. Please read YouData – The best PTC site for more information.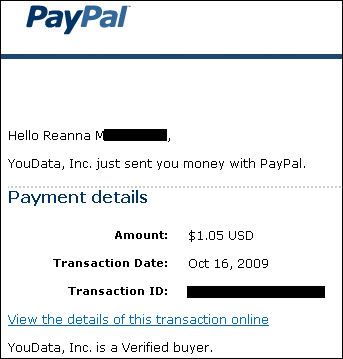 I also got another $3.00 payment from Pinecone Research, which is one of the best survey sites to make money online! There is no minimum payout to reach, you get paid via Paypal (or check if you prefer), and they always send fast payments… within a day or two for the most!
And last but not least, I received yet another IM Report Card payment, this time for $20.30. Are you looking for ways to make money on the internet? Are you wondering if a certain product or site is a scam? Sign up at IM Report Card and not only read real reviews by real people about various products, services, and internet gurus, but get paid to give your own experiences as well.
Those three payments have a combined total of $24.35 and it brings my total earnings online to $3112.33!
Here on my website, I aim to talk about sites that anyone can make money with, regardless of their experience and knowledge with computers. These sites are not that difficult to participate in. Just by filling out a survey, or clicking a few ads, or writing a review of a product, service or website you've used, you can make some extra money online to put towards a bill or buy some food in these difficult times.

My real name is Reanna but around the web, especially in the MMO (make money online) world, I'm referred to as TriNi. On this blog, I aim to teach people that it CAN be done; that there are legit and 100% free ways to make money online.