I get a lot of questions about how to make money writing online. I think it's because it seems to be very legit, and it is one of the only ways that you can CONTROL how much money you make! Eg. If you find a site that pays per article, like Associated Content for example, then your earnings per month would all depend on how many articles you can write in a day.
Freelance writing is also a passion of many, and a popular way of making money online. I personally love to write, but if it's a topic that I am not interested in, or that I have to do research about before I can complete an article, then it becomes difficult for me to write. That, and the fact that I haven't had much time lately is the reason that I haven't pursued this method of making money on the internet. Freelance writing comes with the responsibility of being able to meet deadlines. Most freelance writing work gives you a date by which you need to submit a particular article.
For those of you that are interested in freelance writing, check out the following sites provided to me by my good friend Ebele from Get Paid To Fart who is an experienced freelance writer.
- QualityGal.com. They pay $12-$25 per article, HOWEVER, they are very serious about their work. In fact, just to be sent a test article, you must send in a bunch of paperwork! Here's the exact quote taken directly from their site:
New Writer Check List

If you're interested in signing up with us, you need to send us ALL REQUIRED PAPERWORK before we can assign you a test article!

What exactly is all the required paperwork?

—- A signed copy of the Content Release form

—- Writer Application

—- A signed copy of the Style Guide (last page)

—- A signed copy of SEO Writing for Dummies (last page)

—- A signed copy of the Non-Compete Clause/Confidentiality Agreement

—- W-9 Form signed and dated

-A FULLY FILLED OUT (SIGNATURE INCLUDED!) W9 form (even if you are not a US citizen! It is a requirement from the US government for us to have one on file from you!)

We also need you to register on the Writer Panel.

Once we have all of these forms from you and you have registered on the Writer Panel, we will assign a test article. Thank you!
So while the pay might sound tempting for this company, be sure to read through the blog first and see all the particulars before you decide if you really want to go through with the sign up.
- TextBroker.com is actually another site where you can get paid to write. I am actually a member of this site, and while creating this post, decided to log in. I actually just completed an article in about 15 minutes. It was about ways to personalize a T Shirt. The thing I like the most about TextBroker, is that you get to choose your assignments, making it easier to select things you are interested in, and therefore making it easier for you to write.
To request a payment on TextBroker, your account must show a balance of at least $10. Payoff requests made by the 5th of the month will be processed by the 10th of that same month. Payoff requests made by the 20th will be paid at the latest by the 25th. Missed payoff deadlines will roll over to the following pay period.
Most articles are worth $2 or so, depending on the number of words required, so it's not that hard to reach pay-off! I think I actually enjoyed writing that article about personalizing a T Shirt, and I think I will try to be more active on this site from now on.
- DemandStudios.com is another freelance writing site. Almost all of the articles accepted by DemandStudios gets published on eHow.com. eHow use to be a site where you could publish content directly and get paid depending on traffic, however recently they have changed their policy and you now can only publish content to their site via DemandStudios. I am a member of eHow, but had not used it much. I have not signed up to DemandStudios however, so I can't tell you for sure how they work. But I hear they pay about $15 an article and in order to sign up, you need to attach a writing sample on any subject that is at least 300 words.
- Work at Home Forum. This is actually a forum that has a lot of work at home jobs and they target work at home moms, however, this section of the forum is dedicated to Freelance Writing, and you can find a lot of legit and paying writing jobs there.
- FreelanceWritingGigs.com is a site/blog that updates on a daily basis with a compilation of freelance writing work available around the internet. So in other words, they save you the hassle of trying to find work by locating the jobs for you. Most of the jobs posted come from Craigslist, etc. This is probably a site you'd want to bookmark if you're interested in writing for money online.
- Bloggerjobs.biz is also a site/blog that updates daily with freelance writing work. It is very convenient that they have Categories on the site, so this way you can sort of select what work you wish to do.
- Jobs.problogger.net is a job board controlled by Darren Rowse, who is the owner of ProBlogger.net. He started blogging in 2002 and today he currently makes a living online from blogging. New jobs are posted on the ProBlogger Job Board almost on a daily basis.
- AllFreelanceWriting.com has a writer's market where you can find a few companies that are hiring writers. Most of the payments seem to be on a "per word" basis.
- Associated Content seems to be a popular site to make money writing articles. I have written a few times and got paid by them so I can definitely tell you they are legit! They pay about $2 more or less per article, however, they are a bit tricky in accepting articles, so be sure yours is full of content, and spell-checked before submitting it.
- Hubpages isn't exactly a "freelance writing" site, but it's a site where you can get paid to write none the less. How it works is you are free to create your own articles (they must be original), and as long as it gets accepted by HubPages, then it will be in their database. They do not pay a fixed rate per hub created, however you can monetize your hub with Google Adsense and Amazon and earn money that way depending on how much traffic your hub gets. My personal experience with HubPages hasn't been terrible, however I have found lately that many of my hubs were being flagged for no reason, and supposedly "against the rules" and now I have a hard time getting my hubs approved. I have slacked off a bit from using them.
- Squidoo has become my absolute favorite way to earn money online by writing. It could just be because on of my lens (articles) got popular on Google and has been earning me a steady source of income on a monthly basis! I have earned over $125 from this one lens since I've created it! Genius, especially since the site is 100% free to join, and lenses are 100% free to create! Squidoo works the same way as HubPages, where they pay you a portion of the revenue they earn from ads on your lens. So ultimately, it does depend on how much traffic your lens gets.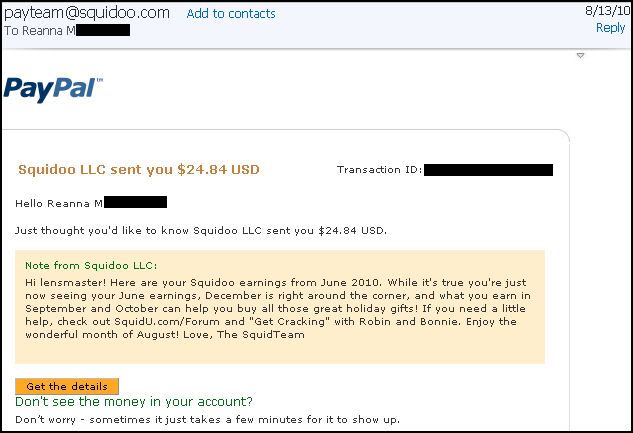 This payment for $24.84 brings my total earnings online to $8760.67!
Freelance writing can be a great source of earning money online. If you prefer writing articles instead of taking surveys, then be sure to check out the sites listed above, because I'm sure you can make some good monthly income from writing!
Good luck!

My real name is Reanna but around the web, especially in the MMO (make money online) world, I'm referred to as TriNi. On this blog, I aim to teach people that it CAN be done; that there are legit and 100% free ways to make money online.