Taking a few minutes from my busy schedule to do a much needed post here on Make Money Online Free.
I've received several payments in the past couple weeks or so. It's a good sign, because it shows that even though I have been busy lately.. I am still making money online.
By the way, just a quick thanks to all those people that gave suggestions on how I can better manage my time and my blog. I am definitely considering all of them! By the end of this year, I should know my ultimate decision! In the mean time, I'm happy with the extra cash that I make from this blog!
Ok so let's start…
Dollar Click or Sign Up which is a great GPT site that I probably don't mention enough, paid me for the 13th time. I currently moderate there on the forum, and I'm also a member of the site. There are always new promotions, fun games, and other ways to win and earn cash on this site. In fact, if you don't believe me, you'll see tons of payment proofs posted on the forum by other members!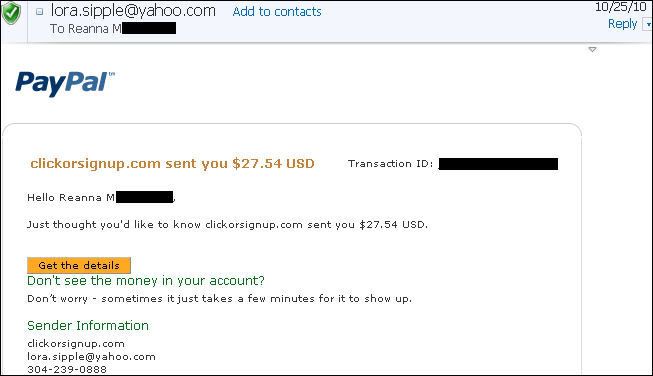 I also got paid from YouData, a PTC site. I really like them, and I've stated why clearly here on my blog several times. Just look through my postings or use the labels/categories and find YouData and you'll be able to find lots of information!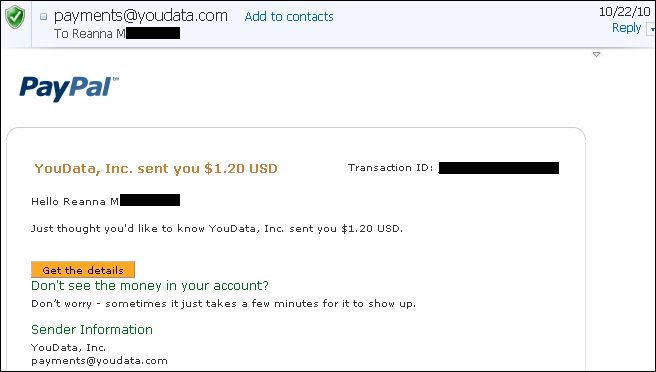 Another great work at home opportunity, Cloud Crowd, paid me a few times recently. This is a Facebook application where you can complete tasks and get paid, all from the comfort of your home. They also send payments often! Mine are never for that much because I haven't gotten time to do work myself on this site… so the little that I do make is from referrals. If you do the work yourself, you can make MUCH more.
Here are four payments I received from them recently.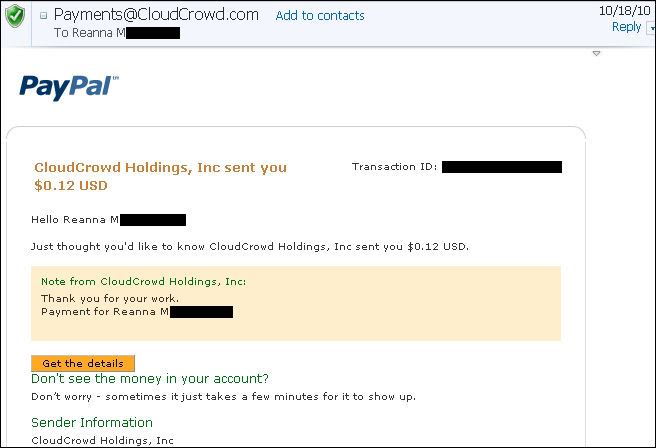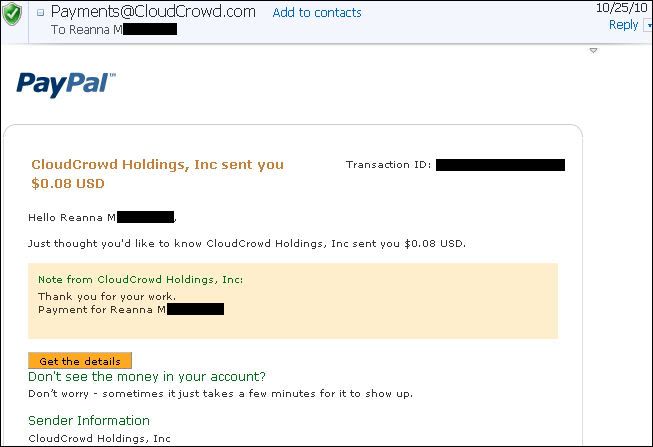 Another site that I'm a huge fan of, Pinecone Research paid me recently! And get this, I'm sure you're used to seeing my $3 payments from them, but this one is for $10! Yes ten bucks, just for taking a survey!
I got a survey invitation from them as usual, to take part in a survey. After completing the survey, I was told that there would be a part two, and if I also completed part 2, I would receive $10 (in addition to the $3 I'm getting paid to complete part 1)!
Well, about a week after, I got "part 2″, completed it… and within a day or two, received a payment for $10!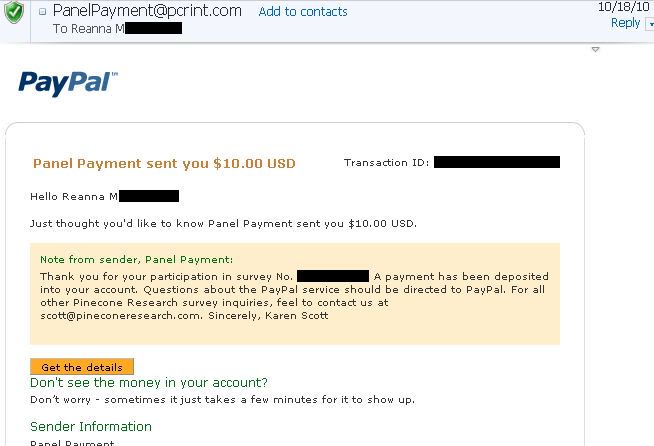 Definitely the most I've gotten paid to take a survey since I have been doing this!
I do have a bit of bad news however, the Pinecone Research application is now closed. They are no longer accepting new members, so I do apologize if any of the links throughout my blog redirects. It's a bit time consuming to go through all my past posts and edit them.
Last but not least, I got a payment from MaxBounty, an affiliate marketing site.
I've been doing really well running campaigns here on my blog! Here's my most recent payment from them.
Just about a week ago, I got an email from the owner of MaxBounty, saying that Facebook was suing MaxBounty. I was pretty shocked at this, because ever since I've been a member there, they have been very legit and not at all involved in any kind of spamming!
Here's a copy of the email I received:
Hello Reanna,
It has come to our attention that Facebook has named MaxBounty in a lawsuit. The complaint alleges that certain MaxBounty affiliates have caused Facebook users to "spam" their friends, use Facebook trademarks, and post deceptive offers.
We take these claims seriously. As you know, MaxBounty does not control the content of its affiliates' websites, the style of affiliate campaigns, or where affiliate web pages are hosted. MaxBounty merely acts as a traffic broker and statistical tracking system between affiliates and advertisers. MaxBounty has not "spammed" anyone on Facebook.
Facebook's allegations in the complaint are inaccurate. Regardless, we have every intention of cooperating with Facebook, to the extent possible, to ensure that all applicable laws and Facebook rules and are complied with. MaxBounty has a reputation of not allowing spam or deceptive advertising practices by its affiliates on social websites. In the past, we have removed affiliates from our network who had engaged in such unacceptable campaigns.
We expect this matter will be resolved promptly, amicably, and without any disruption to MaxBounty's business for advertisers or affiliates.
JP Sauve | CEO | MaxBounty Inc
PO Box 17039 | Ottawa, Ontario | K4A 4W8
Phone: (613) 834-3955 x224 | Fax: (613) 834-8011
Email: jp@maxbounty.com | AIM: JPatmaxbounty
It could be however, a few bad apples, that decided to use Facebook to "promote" their campaigns even though Facebook's policy clearly is against soliciting.
Hopefully, Facebook will see the real culprits here, and not bring down the entire MaxBounty site. I will keep you updated as soon as I get more information on the progress of the case.
These payments add up to $276.60 which brings my total earnings online to… $10,121.71
I finally hit that 10K mark!
This accomplishment definitely is motivation for me to keep working on this blog and go for 20K!
I'm super proud of my achievement, and it honestly goes to show, ANYONE can make money online… even a silly 23 year old girl like me.
It's now my bedtime. Goodnight. TGTIF!

My real name is Reanna but around the web, especially in the MMO (make money online) world, I'm referred to as TriNi. On this blog, I aim to teach people that it CAN be done; that there are legit and 100% free ways to make money online.