I know I've been going crazy with the updates today but it's only because I want to catch up with posting all of the payments I've received for the past week or so. I've had some tragedy happen lately, with my friend's boyfriend passing away and all, but I've continued to receive payments throughout that time. So today I've decided to update you guys with all the money I've made since my last post. So bare with me. This is my last post for the day. I promise… I think.

For the holiday season, Swagbucks which is a site that pays you to search online (like you do with Google), has a promotion where everyday until Christmas, they're reducing the price on one of their giftcards in the SwagStore. About a couple weeks ago, the giftcard they chose was PayPal giftcards, and a $5 PayPal giftcard cost only 55 Swagbucks!
I don't usually cash out at Swagbucks for PayPal money since I make money online in other ways, but 55 Swagbucks was totally worth it! I cashed out for 4 of them, and I'm happy to say that today I've gotten those payments which add up to $20! All for simply searching the web like I usually do everyday. It's like getting paid to use Google!
Remember besides cash, Swagbucks offer several other giftcards and prizes in their store that you can redeem your swagbucks (points) for. Those two $25 Macy's giftcards and that $100 JCPenny giftcard came in really handy for my Christmas shopping this year!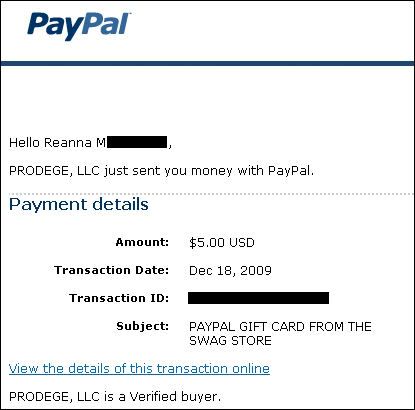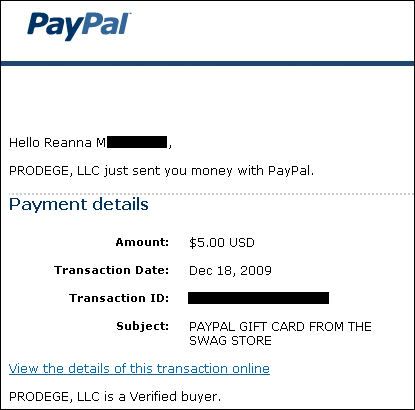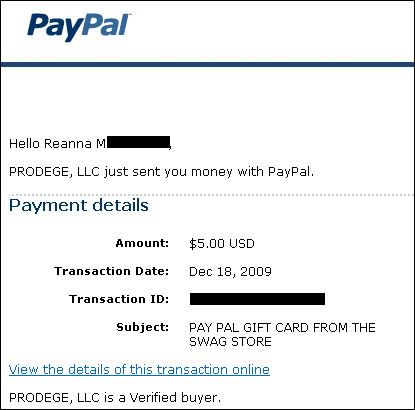 This $20 brought my total earnings online to $4312.55!

My real name is Reanna but around the web, especially in the MMO (make money online) world, I'm referred to as TriNi. On this blog, I aim to teach people that it CAN be done; that there are legit and 100% free ways to make money online.