One of my favorite ways to make money online free is by doing paid online surveys!
For a few minutes of my time, I give my opinions on a survey about a particular product or service that I use, and in return, I get paid in cash.
One of my favorite sites that I take surveys on is Pinecone Research.
I believe this site is probably the best when it comes to paid online surveys. Their surveys are never too long and boring, and they always pay on time! You can choose to get paid via check or PayPal, and it's usually $3 per survey.
Here are my few recent payments I've received from Pinecone Research.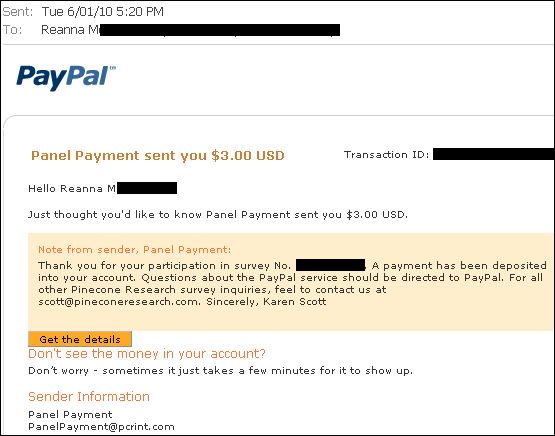 These three payments add up to $9 and bring my total earnings online to $6998.16!
By the way…
I've been getting a ton of SPAM comments lately. I hope spammers aren't the only ones reading my blog! If there are any real people out there, please don't hesitate to drop a line, even just to say hello. And for the spammers: I MODERATE MY COMMENTS. Even if you say "click here to make money online" in 20 different ways and leave a link, they'll ALL be rejected! So do yourself a favor and don't waste your time.
Only comments with real substance and value will be approved.

My real name is Reanna but around the web, especially in the MMO (make money online) world, I'm referred to as TriNi. On this blog, I aim to teach people that it CAN be done; that there are legit and 100% free ways to make money online.