Hey everyone, I'm back from vacation and trying to get a move on with the blogging scene. It's been a while since I've done a total earnings post for the month, in fact my last one was for the month of May. So today I'm going to post all the proof of payments I've received in June and July of 2011, and tally up my earnings for those two months!
Here are screenshots of all the payments I've received in the past two months.


June and July Payments from Cashcrate.


Payment in June from Google Adsense.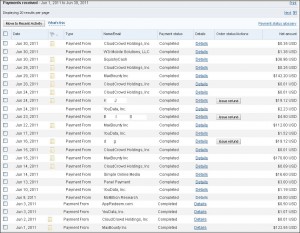 PayPal Payments for the month of June.


10 $5 Amazon GiftCards received from iRazoo in June.


Amazon Giftcards from Swagbucks for June And July.


Amazon Giftcards from Zoombucks for June And July.


Amazon Giftcards from DollarClickOrSignUp for redeeming ClickItCoins in July.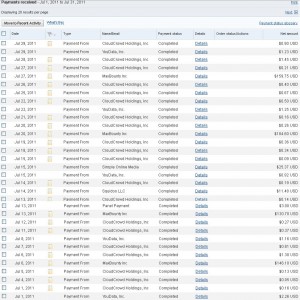 Paypal Payments received in July.
From the screenshots above (click on images for larger view, they open in a new window), my earnings for June are as follows:
Cashcrate: $216.79
Google Adsense: $110 (approximated due to Google Adsense's policy)
MaxBounty: $547.55 (there are 4 separate payments because MaxBounty now pays me on a weekly basis instead of monthly).
Cloud Crowd: $0.73 (only referral earnings, I haven't done any work here myself in a while!)
YouData: $6.01
AppRedeem: $0.50
MindField Online Internet Panel (McMillion Research): $5
Pinecone Research (Panel Payment): $3
Dollar Click or Sign Up (Simple Online Media): $16.60
Private Advertising (d___ g___, E___ I___ S___, and K___ J___, are all private individuals who have purchased advertising from me in June. Their names have been blocked out for privacy reasons): $42.74
Squishy Cash: $36.96
Apparang (W3i Mobile Solutions, LLC, who have discontinued their service from June 30th, paid off all their outstanding debts to their members): $1.38
iRazoo: $50 in Amazon Gift Cards (I sorta signed up and forgot about this site for a while, but logged in to find that I had accumulated enough points from referrals to cash out for 10 $5 Amazon Gift Cards! Earn up to 150points per day for searching and commenting and rating sites).
Swagbucks: $20 in Amazon Gift Cards
Zoombucks: $40 in Amazon Gift Cards
Total Earnings In June = $1097.26!
This is the ultimate best I've done since I began making money online. I finally hit the 1K mark in a month! Even though I know this doesn't mean I will be making this month every month from here on, it is definitely enough motivation to keep me going with this blog and making money online, even when things get tough. I hope it is enough inspiration for you as it is for me, knowing that it CAN be done, starting from scratch, without any knowledge or experience about making money online. All it takes is some hard work and perseverance.
Okay, let's move on to July's earnings:
Cashcrate: $199.10
Swagbucks: $20 in Amazon Gift Cards
Zoombucks: $30 in Amazon Gift Cards
YouData: $6.82
Cloud Crowd: $8.76 (ONLY from referrals. I haven't done any work here myself in a long time. However, if I can make this much just from referrals, whoever is doing the actual work themself is making quite an earnings from this site! For those that aren't sure what CloudCrowd is, it's an application on Facebook that provides freelance work to it's members. It's 100% free to join, and you work online doing things like editing, proof reading, etc, and you get paid via PayPal. For more information, read How To Make Money On Facebook With Cloud Crowd).
MaxBounty: $621.15
Pinecone Research Panel Payment: $3
Squidoo: $11.48
Dollar Click or Sign Up Simple Online Media: $25.37 + $20 in Amazon Gift Cards
Total Earnings In July = $945.68!
It's not $1000+ like in June but it's very close! I'm extremely satisfied with my earnings in both June and July, especially considering the fact that I've been so super busy moving into this new house, doing renovations, going on vacation an entire week, trying to get registered and back in college, among all the other things like full time work and doing my daily duties as a wife. I can honestly say I feel accomplished. Within the two years and more that I've been making money online, never have I made over $1000 in one month so this is definitely a milestone for me.
My goals for the following months will be to maintain these earnings, and possible even increase them. It will be a challenge, but I believe I can do it if I put my mind to it.
These payments bring my total earnings online to $16,322.05!
Have a great weekend guys!

My real name is Reanna but around the web, especially in the MMO (make money online) world, I'm referred to as TriNi. On this blog, I aim to teach people that it CAN be done; that there are legit and 100% free ways to make money online.