Writing articles online is one of the ways I suggest on my blog, that you can make money online free.
It's actually a very reliable source of passive income and would solely rely on how much quality articles you're able to push out per day/month.
I actually started out really well on a couple of sites, writing articles and getting paid for it, but after a while my blog grew, my online tasks grew, I got a part time job, and so time is extremely limited lately! I barely get time to think, much less write an article.
However, the good thing about several of the sites that I've joined, is that you don't only earn a one time payment from your articles, but you continue to earn for each one even after they are published, depending on how many views they are getting.
Associated Content and Squidoo are two of the sites where your past articles can continue earning you income.
In fact, one of those payments came in a week ago and really surprised me. One of the lens I created on Squidoo started doing really well on the search engines, and so it built up a nice little chunk of change for me.
This is my first payment from Squidoo. Squidoo is a great place to "write articles" (called lenses) because there rules are not as strict, and your lens is determined by you. Almost anything is allowed, which means this is also a good place to advertise your blog, website, referral links, etc.
Just visit the site, read the rules, check out a few other people's lenses, and you'll get the hang of what it's all about. And later on, you can make a few extra dollars from the work you've done today.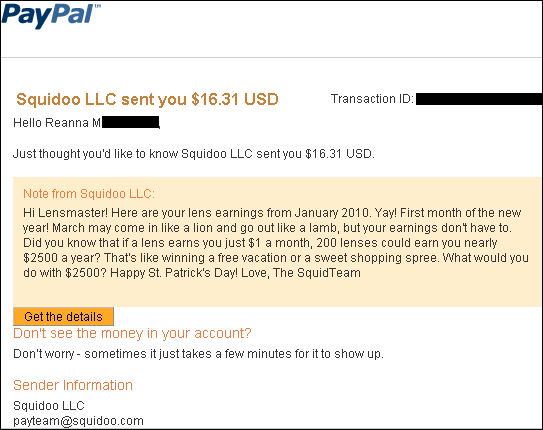 This payment brought my total earnings online to $5870.54!

My real name is Reanna but around the web, especially in the MMO (make money online) world, I'm referred to as TriNi. On this blog, I aim to teach people that it CAN be done; that there are legit and 100% free ways to make money online.