Yes yes, I know that we're in 2012 and actually 3 months of the year is almost over, but that's how behind I've been with my total earnings post. Going to school full time, while holding down a job full time, and still doing my daily duties at home and what not, has taken over my life and I haven't had enough time to blog. It's sad, but it's the way life goes. I've been trying to still maintain this blog however, and the good news is even when I'm inactive for a while, I still continue to make money online from it!
As promised, here is the run down of the total amount of money I made in December of 2011. Click on the screenshots for a larger view, it will open in a new window.
Cashcrate: $71.92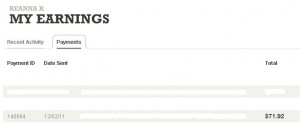 Google Adsense: $135 (approximated for privacy reasons)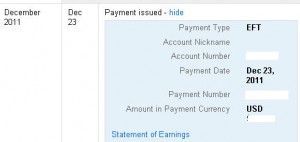 Logical Media: $104.33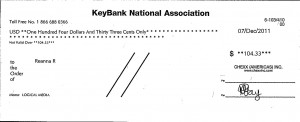 Amazon Gift cards:
I get amazon gift cards from a bunch of different sites I make money on. Some of them are the main ways I cash out, such as Swagbucks, Zoombucks and iRazoo, while others I get from sites like Cashcrate and Dollar Click or Sign Up where I have redeemed my points for Amazon gift cards. Since I haven't been great at keeping track of my payments lately, it's sort of hard for me to tell you exactly how much in Amazon gift cards came from each site, but buy using Amazon's View Gift Card Balance feature, I can show you the combined worth of the gift cards I've received and entered on Amazon.com. As you can see from the screenshot below, I've earned a total of $155 in Amazon gift cards from these sites in December. That sure did help out when it came to shopping for Christmas presents!

PayPal Payments:
Here's a screenshot of all the payments I received via PayPal in the month of December 2011.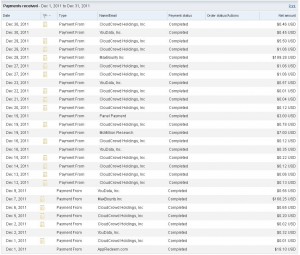 AppRedeem: $18.10
Cloud Crowd: $11.62
YouData: $2.25
MaxBounty: $357.53
MindField Online Internet Panel (McMillion Research): $7
PineCone Research (Panel Payment): $3
Total December Earnings: $865.75
Considering how little time I've spent on this blog over the past few months, I'd say that's a great figure! It just goes to show that making money online is a long term thing and if you're willing to put in enough work to make your blog or website rank highly on search engines, then you can be reaping the rewards of passive income for many months/years to come without doing much else.
So what else can you look out for from "Make Money Online"?
I'm going to do total earnings updates in trimesters now (meaning every three months). Therefore since March is almost finished, you can look out for a new total earnings post which includes all the free money I've made online in the months of January, February and March of 2012. The next total earnings post will be done after the month of June, which will cover the next three months after March, and so on…
I'm also going to try to do some stable and informative posts. I've gotten a few request for post on specific topics, and I'll try my best to get those out soon. I also have a few topics of my own I'd like to cover.
And last but not least, I'll continue using this blog to make money. I always say that whether I earn $5 or $500 I'm happy. It's money I didn't have before I started, and with the current state of the economy and the amount of expenses I have lately, I'll take it!
Well that's about all for now. I have the virus right now and stayed home from work, so I'm going to take some medicine and try to get some rest. Leave me some comments and let me know how you guys have been doing when it comes to making money online free.

My real name is Reanna but around the web, especially in the MMO (make money online) world, I'm referred to as TriNi. On this blog, I aim to teach people that it CAN be done; that there are legit and 100% free ways to make money online.