I haven't done a post about ways you can make money online by playing games in a while, so I thought I should.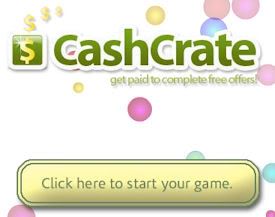 I've been addicted to Cashcrate Games recently, and I've even won one of the daily tournaments for the Word Noodle game and won 28 points! Now incase you don't know, points can be redeemed for giftcards and prizes on Cashcrate so it's almost like winning cash!
I've also placed in a few other tournaments and won a couple points here and there as well!
So far Word Noodle, Snake Fish, Crates, Tripeaks, and Toader are my favorite games on Cashcrate.
There are daily and weekly tournaments for all the games, and they place up to 5 places. So that means even if you don't win, if you make one of the top five high scores, you still win points!
This is such a fun way to make some cash or in this case, win giftcards and prizes online!
And speaking of contests and games, don't forget about the forum game currently running at Dollar Click or Sign Up! Take a look at the following images:



If you think you know what those things look like.. then sign up at Dollar Click or Sign Up and visit the forum to guess the image! You could win $5!

My real name is Reanna but around the web, especially in the MMO (make money online) world, I'm referred to as TriNi. On this blog, I aim to teach people that it CAN be done; that there are legit and 100% free ways to make money online.