Did you know that you can make money online with Google? No not that "make money online posting links for Google" scam…
I'm talking about searching with Google.
I'm sure every one of us search at least one thing on Google per day. Well why not turn those searches into cash?
Swagbucks is a site just like Google that awards you random "digital dollars" that you can save up and redeem for cash and prizes from their SwagStore!
I absolutely love this site and I think everyone in the world should use it because it's SO easy! There are no long surveys to fill out, no articles to write, absolutely no effort needed. Just a simple search for anything you might be curious about will reward you on Swagbucks. You're guaranteed to win at least 1 Swagbuck per day, and possibly much more, if you keep up with SwagCodes, etc.
Swagbucks has a variety of things you can redeem your Swagbucks for including Amazon giftcards, or more recently their addition of PayPal money!
It's like getting paid to use Google! What's easier than that?
If you'd like more information on how this site works, please read "What is Swagbucks?"
Here are 4 Paypal payments I've received from Swagbucks recently.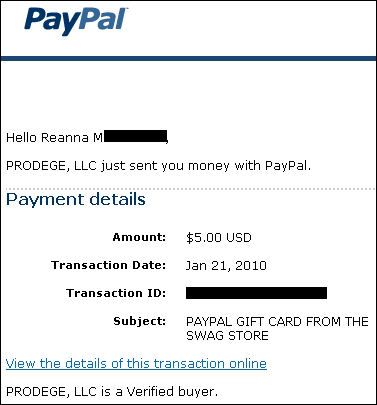 These four payments add up to $20 and they bring my total earnings online to $4963.13! I'm nearing closer and closer to that 5 grand!
Have a great weekend everyone!

My real name is Reanna but around the web, especially in the MMO (make money online) world, I'm referred to as TriNi. On this blog, I aim to teach people that it CAN be done; that there are legit and 100% free ways to make money online.