I am always looking for new ways to make money online and a while ago, actually since August 31, 2010 to be exact, I joined Mindfield Online Internet Panel. I am only now writing a review on it, because I decided to wait until I was paid a couple of times, just to make sure it was legit. Like everything that deals with making money online, there are those that swear on their life that it is legit, and then there are others that would put their heads on a block that it's a scam! Me, I just like to find out for myself by giving it a try first hand. The fact that these survey sites, at least the ones I am willing to try, are 100% free to join, means I don't have anything to lose other than a few minutes of my time maybe.
Here is my review of the survey panel Mindfield Online.
Mindfield Online is 100% legit and NOT A SCAM, and you will see this by the fact that they have paid me several times since I joined! In fact, look below, and you will see in the screen shot of my account summary, that I've earned a total of $46.00 so far with Mindfield Online! You can also see that money came from only 6 surveys having credited!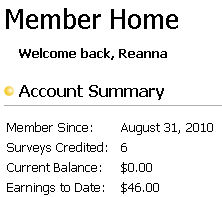 Most of the surveys from Mindfield range in value from $1 to $5, however, every once in a while, they also have studies… which can last over a period of time, but pay more. I qualified for and completed one of these "studies" which was about greeting cards and it lasted over a period of 3 months. Not a very demanding study, I basically just had to record all the cards I purchased and basic information about them over a period of 3 months, and fill it into a diary online. At the end of the 3 month study, they credited my Mindfield account with $25.
This might not sound like a lot of money to MANY people. But for the little effort it took me, that $25 was like free money in my eyes.
Below, you can see a screen shot of my payment history from since I've been a member. These are all the times I have been paid by Mindfield Online! You can click on it for a larger view. All these payments were paid to me via PayPal, which is what I requested instead of a physical check.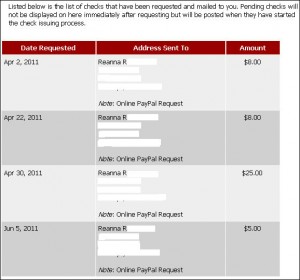 Here are some general guidelines and a few Pros and Cons about Mindfield Online.
General Guidelines:
* It is 100% free to join.
* Members must be no less than 15 years old in order to sign up.
* Only accepts legal residents from US and Canada.
Pros:
* Cashout Threshold (the amount you need to earn before you can request a payment) is only $5 so it can be easily reached.
* Surveys are sent via email often, at least once a day in my case.
* They pay via check as well as PayPal.
* Payments take about a week or two at most.
* Clean and clear layout on the website where you can view everything from your survey history to your payment history.
* BBB Accredited, with a grade A on a scale of A+ to F.
* Available on Facebook, Twitter, and WordPress, as well as a 1 800 toll free telephone number, in the event a member should have a concern.
Cons:
* For each survey invite, there is still a qualifying process where by you might not qualify to take the survey. This can be frustrating, but is actually done on most survey sites.
* Takes a while sometimes for completed surveys to credit.
Honestly, those are the only two cons I can find about this survey panel, and those are things you'd find with most survey panels! I'd say Mindfield Online is one of the better internet survey panels to join if you're interested in taking surveys online for money!
Stay tuned later in the week, I'll do my total earnings and payment proof post for the month of May.

My real name is Reanna but around the web, especially in the MMO (make money online) world, I'm referred to as TriNi. On this blog, I aim to teach people that it CAN be done; that there are legit and 100% free ways to make money online.