I've talked about this site just a couple times before but I think it's worth another mention. If you haven't heard about NoMoreRack.com before, then you're in for a treat! I know you came to this blog looking for ways to make money online, but who doesn't like to save money as well!
We all shop, whether you do it often or not. NoMoreRack.com is an awesome site that offers you 8 deals every day starting at 12pm noon with a flat shipping rate of $2 per item! These range from electronics, clothing, shoes, jewelry, cookware, toys, and basically anything you can think of. I've been addicted to their site since I've discovered them, and even if I don't buy every day, it's always fun to see what they have on sale! After you sign up, like their Facebook page for updates and sneak peeks at their daily deals.
Sign up at NoMoreRack.com and use the Promo Code P1070 and get a free $10 gift card! (Good for purchase over $20 or more).
They have been featured on several tv channels, including "The Talk" on CBS, "The View" on ABC, USA Today, Country Living, The Miami Herald, The Martha Stewart Show, House Beautiful, and Examiner.com.
They have also recently started accepted PayPal Express Checkout!
I've bought SEVERAL things from them in the past, saving me a bunch of cash!
Below you can see my order history.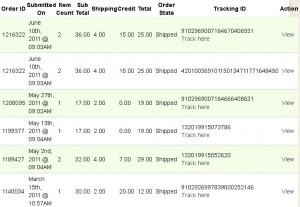 I am positive you'll be just as addicted to this site as I am.

My real name is Reanna but around the web, especially in the MMO (make money online) world, I'm referred to as TriNi. On this blog, I aim to teach people that it CAN be done; that there are legit and 100% free ways to make money online.