My schedule for the rest of the week is pretty packed so I figured I should get a few more blog posts out of the way.
Here are some more proof of payments I've received recently, this time from GPT sites.
GPT sites, or get paid to sites, are sites that pay you to do simple things online. The main thing most GPT sites focus on are offers. Offers are sort of like surveys, but they require less thinking. There are two different kinds of offers; 100% FREE offers, and Trial offers (which require a credit card and sometimes a purchase).
100% Free offers are the only ones I complete. It is just something I prefer to do, because I do not like giving out my credit card info online. 100% free offers pay anywhere from about 10cents to about $2 each. I've even done a free offer once worth $4!
There is a basic "format" to completing a 100% free offer, and it's sort of like clockwork once you get the hang of it.
I provide my referrals with a tutorial guide that would help them complete offers with the least effort and have the best approval rate.
If you haven't gotten that tutorial guide, please send me a message or leave a comment on my blog, and I will definitely get that guide to you.
Here is my 9th payment from SquishyCash.com which is probably one of the best GPT sites in my opinion. The fact that I've gotten paid nine times definitely tells you that they are legit and not a scam!
- They have a wide variety of 100% Free offers and Trial offers as well.
- There are daily surveys that can be done every 24 hours & each pay between 5 casino chips & $0.50!
- They have tons of contests on a daily basis where you can win/earn more cash.
- They have a very active forum and chatbox where you can get help.
- Their referral program allows you to earn 25% of what your friends make in cash offer earnings! PLUS you get $1 per active referral! This means every time someone you refer completes their first offer (becomes active), you get $1! You can earn this bonus from your very first referral!
- They start you off with $5 in your account, so you just have to earn $15 more before you can get paid!
- They pay via PayPal, Amazon, or Check, which is very convenient!
- You get $1 bonus for posting your proof of payment on their forum.
- They have Squishy Slots which is very fun and quite addictive to play.
Those are just a few of the reasons I can think of at the moment, but I'm sure once you become a member, you will find a lot more reasons to love Squishy Cash.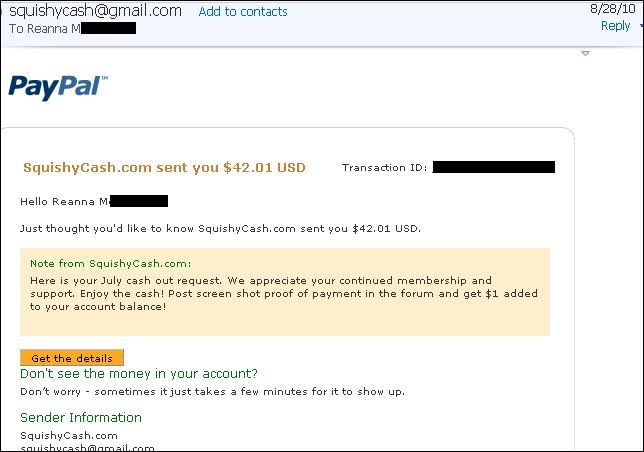 I also redeemed my "Casino Chips" (which are like points) a while ago, and received my $5 Amazon eGiftCard via email.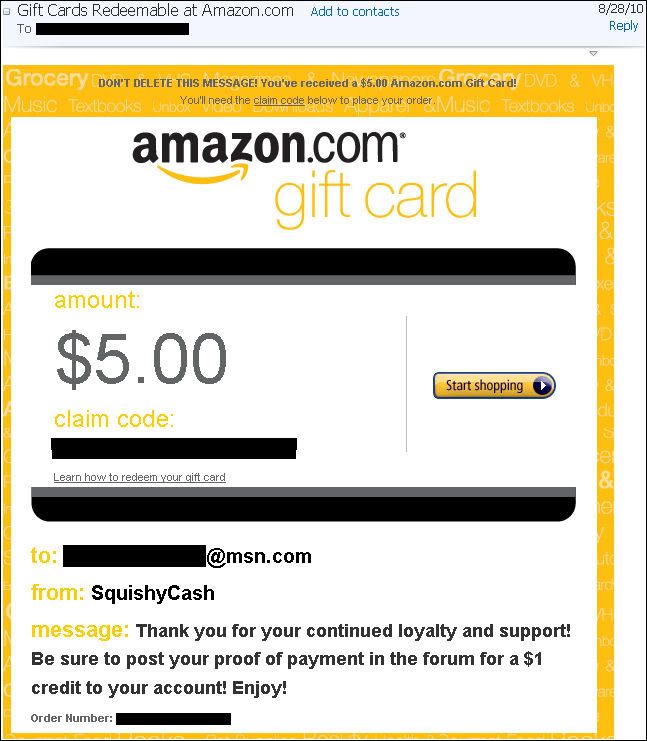 If you think $20 is too much for you to earn before you get paid, and a month is too long to wait, then you might want to consider this other GPT site, DollarClickOrSignUp.com, where payments are done twice per month, and payout is only $1. That means you only have to earn $1 before you can request your payment.
Here is my most recent payment from Dollar Click or Sign Up
These bring my total earnings online to $9082.38. I think I might reach that 10k mark fast that I thought!
Now I'm off to making dinner!

My real name is Reanna but around the web, especially in the MMO (make money online) world, I'm referred to as TriNi. On this blog, I aim to teach people that it CAN be done; that there are legit and 100% free ways to make money online.