Being the last day of the month of February, I'd like to post all the payments I received for the month via PayPal.
Click the screen shot below for a larger view of payments I received in the month of February. It opens in a new window.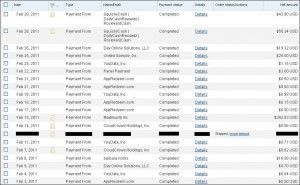 As you can see, one payment is blacked out from the list. This is because I've already mentioned that payment that I received for selling a gift card on eBay. Because I've already counted that payment, I've blacked it out as to not count it again.
First of all, you'll see I received 5 payments from AppRedeem. Four of them are payments I've received for referring others to the site, and the one for $0.15 I got for downloading and installing an app myself. As I always emphasize, this is not a site to get rich or make a living from. It's only a way to get paid for something that you might already be doing if you own an iPad, iPod Touch, or iPhone… and that is getting paid to download apps.
I've also gotten paid 4 times from YouData, which is again, just another way to make some quick easy cash but not a way to get rich. This little extra money you can earn for doing something as easy as clicking ads, can pay for things like music downloads, facebook games, etc. It's a great way to avoid spending your own money for things like these.
I've gotten paid twice from Dollar Click or Sign Up (seen as Day Online Solutions, LLC on the image). This is a really good GPT site that's been around for a while. One of the best things about this site is that payout is set only at $1 via PayPal.
I also got paid from Barbara Norris, who is the owner of Deal Barbie Pays. I had not cashed out from this GPT site in a while, simply because I haven't had a lot of time to continue doing offers, moderating on the forums, etc. But this site still remains a good site to earn with, and they always have new fun contests and promotions going on where you can win even more cash.
I got two Cloud Crowd payments, which came strictly from referrals, because again, I haven't done any work there myself recently. Hence the reason my payments only add up to $0.08.
My MaxBounty payment came in as well, which was one of the biggest ones I think I've received from affiliate marketing in general.
Pinecone Research paid me once for a survey I took in February.
And the payment you see from United Sample, Inc. came from SurveyHead! I've continued to defend this site for a while because I get a lot of hits to this blog for things like "surveyhead scam", so obviously there are people out there that still think this site is a scam. It is not. I've gotten paid quite a few times. Would I call it my favorite paid survey site? No. It takes a long time to accumulate $25 dollars, but the good part is that you know you'll get paid, and they send out survey invites quite often throughout the day.
All the way at the top of the image, you can see 2 Squishy Cash payments I received just a few minutes ago. As I mentioned before, I had been forgetting to cash out from this site the last day of every month, and therefore, I cashed out twice in one of the previous month.. at the beginning and then again at the end. Hence the two payments and not just one.
Altogether, these payments add up to $561.56 and bring my total earnings online to $12,945.90!
This isn't my total earnings for the month, I'll do that in a separate post. I just wanted to post the proof that I have been paid from these sites in February, and that they are definitely legit.

My real name is Reanna but around the web, especially in the MMO (make money online) world, I'm referred to as TriNi. On this blog, I aim to teach people that it CAN be done; that there are legit and 100% free ways to make money online.