This post is LONG overdue. I know. But I've really been very busy since this month of May started and it's only now that I decided to settle down and finally do this payment proof post. After all, it's what this blog is based on. I don't like only telling people how to make money, but I like to prove that these methods actually work and you WILL get paid! This month, and probably from now on, I'm going to combine my "payment proofs" and "total earnings for the month" into one. Therefore, the money I count as my total earnings, will be what I've been paid, not not necessarily what I've earned. It's just easier for me to keep track of this way.
So here are screen shots of all my payments for the month of April 2011. As usual, feel free to click on any of the images for a larger view. They open in a new window.
Let's start with Cashcrate which is a site I've always gotten payments from and speak very highly of. They continue to go above and beyond to pay their members, attend to their problems/needs via an awesome support team, and last but not least, they are 100% legit and NOT A SCAM!
Here is my 27th payment from Cashcrate.com for $115.63.

I also decided to cash out my "click it coins" last month, from another GPT site that I enjoy working on; Dollar Click or Sign Up. This site also has a great support team and admin who is always willing to help you solve your issues. In addition to earning cash for doing various tasks like offers and surveys, you can also earn "click it coins" which are like points you can redeem for prizes or giftcards. I decided to redeem mine for an Amazon gift card worth $25.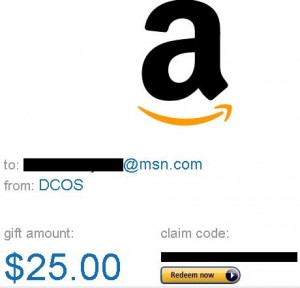 Swagbucks and Zoombucks has also been steady earners for me recently. These sites are mainly "get paid to search" sites… which means they will reward you for simply searching online, just as you do with Google! However, recently, they have also added lots of other ways for you to earn faster, such as surveys, shopping, offers, promo codes, watching videos, referring friends and family, etc. These are two really easy ways you can get rewarded for something you are already doing online anyway.
In April, I cashed out $25 in Amazon giftcards from Swagbucks. Here is a screenshot of my account.

I also cashed out for $30 worth of Amazon giftcards from Zoombucks. Here's a screenshot of that account. You can see the last date to the right, which is the date I received them.

SurveySavvy which I mentioned that I joined a while back in, SurveySavvy: Scam Or Legit? Make Money Taking Surveys Online!, sent me yet another check. They already paid me once before, when I confirmed that they were indeed legit and not a scam. But this second payment should prove yet again that SurveySavvy is not a scam.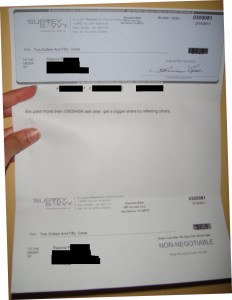 And while we're talking about checks, another company that pays me via checks in the mail, Logical Media also paid me in April. Here is the check I received in April from this affiliate marketing company.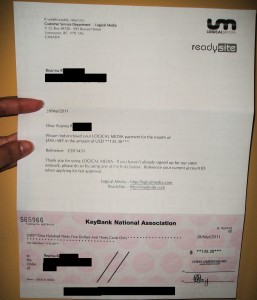 So last but not least.. let's get into all the Paypal payments I received in April! Below is a screenshot of my PayPal account for the month of April.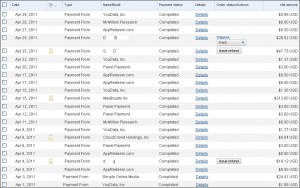 As you can see, the first payment I got in April was from YouData, and they continued to pay me throughout the month, every single Friday for a total of $7.44!
The second payment from Simple Online Media, is actually from Dollar Click or Sign Up also. They own this GPT site, and it's a payment for $24.41.
AppRedeem paid me several times in April, probably for referring a friend to sign up, since I haven't downloaded any new apps from them in a while. However, they paid me a total of $2.50.
The payments whited out from d__ g__, as well as S__ D___ are from clients that purchased private advertising here on my blog. This added up to $66.87.
I completed and got paid for 4 surveys from Pinecone Research, which adds up to $12.
It seems like one of my referrals did a bit of work and got paid from the Facebook App Cloud Crowd, and so I got paid $0.04 in referral earnings as well.
The payments from Mc Million Research, is actually from a survey panel I joined a while back. I haven't reviewed it here on my blog yet, simply because I wanted to make sure I got paid first and that it was legit and not a scam, before I recommended it to others. The survey panel is called MindField Online Internet Panel, and they are great with sending out survey invites to your inbox. As you can see, I requested payment and got paid twice, each of $8, adding up to $16 total. I promise to do a full review on MindField Online Internet Panel soon!
The payment whited out from D___ B__ is from a blouse I sold on eBay! I've mentioned several times, why selling stuff on eBay is an easy way to make a profit and make money online.
And finally, my biggest earner continues to be my affiliate program MaxBounty which paid me $312 for the month of April. Recently though, they have changed up their payment system, and are now paying on a weekly basis! As long as you meet the payment threshold of $100, you will get paid the following week. So in future post, just be aware of this if you see several payments per month from MaxBounty.
Those were all the payments I received from making money online in April!
These add up to a grand total of $803.51 and bring my total earnings online to $14,410.13!

My real name is Reanna but around the web, especially in the MMO (make money online) world, I'm referred to as TriNi. On this blog, I aim to teach people that it CAN be done; that there are legit and 100% free ways to make money online.