Happy June! We're already six months into the year 2011! Doesn't the time seem to just fly by? I got a few days off from work this week so I decided to focus on some online work. I know I haven't been as active posting on this make money online blog as I would like to be, recording every single little detail as it happened, but it's a challenge for me to find enough hours in the day sometimes. With my full time job, being a wife, and the start of summer here in NYC, I also enjoy having a life outside of the Internet. I've even been considering going back to school soon to finish up my degree, so that should keep me even busier!
Anyway, enough rambling about me, and let's get down to what I was paid online in the month of May. As usual, click on the images for a larger view of payments. They open in a new window.
I'll start with Cashcrate, which has been paying me ever since the first month I signed up as a member. Below, you can see my 28th payment from Cashcrate.com for $144.34.

If you'd like more information on Cashcrate, check out some of my previous posts Cashcrate? Scam? – TriNi's Proof Of Payment, Cashcrate Scam Or Not? Legit Review Plus Proof Of Payment, Cashcrate a Scam? Proof Of Payment! Look! and finally, The Cashcrate Scam. Is It Real?
Two other sites that I have really come to like are Swagbucks and Zoombucks! Both are considered as "get paid to search" sites, and they will reward you for just searching online! That's right, you can make money online for simply searching as you normally do using Google. However, to maximize your earning potential on these sites, and cash out faster, I would recommend you do other things in addition to just searching. These sites now offer surveys, tasks, and promotional codes, as well as even games where you can earn much more than you would by just searching! But again, it is not mandatory! You CAN earn on these sites just by searching the web, it might just take you a bit longer to reach the redeeming threshold.
Here are the 4 Amazon gift cards I received from Swagbucks in May, for a total of $20.

And here are 4 Amazon gift cards I received from Zoombucks in May for a total of $40.

Now let's move on to PayPal payments I received in May!
Here is a screenshot of my payments received via PayPal in May!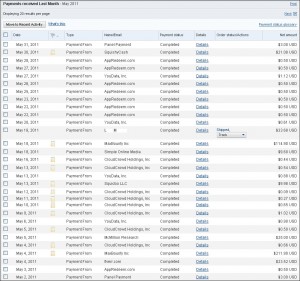 In May, I received two "Panel Payments". These are from Pinecone Research for completing two of their surveys.
You can also see I received several AppRedeem payments, 8 to be exact! AppRedeem is a site that pays those with iPhones, iPod Touch, or iPads, to download free as well as paid apps. These payments were for referring members to their website.
You'll see a payment from fiverr.com for $23.52 on May 4th. I don't believe I've ever done a review on Fiverr.com however, I have been using it for a while. I listed an add for paid advertisement here on my blog, where $5 would get your banner (specific size) on my blog for a week! However, after testing the site for a bit, and cashing out, I decided to pull my ad. Because of all the fees, Fiverr's $1 for their service, and paypal's fees, I was coming out with about $3.xx per ad, which is A LOT less than I charge per month. However, Fiverr is a site that ANYONE can use to make some extra cash online and because of it's versatility, it's a good site for connecting with potential clients.
You can list an ad for almost ANYTHING, and someone might pay you to do it. Visit Fiverr.com for an idea of what kind of ads people list, and what kind of services people are looking for, and you might just find a way to make yourself an easy 5 bucks… well a little less if you count the fees. Even though it didn't prove to be the best method for me, that doesn't mean it won't be for you.
This month, you'll also notice TWO MaxBounty payments instead of one. This is because MaxBounty recently introduced weekly payments! As long as you meet the threshold of $100 you get paid the following week. So from now on, you might be seeing a couple of payments in my PayPal screen shots from MaxBounty.
There are also several payments from Cloud Crowd which I haven't used in QUITE some time, but apparently someone that read my blog took an interested and is making quite a decent amount of money there. My small referral earnings must mean they are earning quite a bit more.
You'll see a payment from McMillion Research for $25, which is really from MindField Online Internet Panel which I reviewed just a few days ago. If you'd like to read more about this survey panel, read Mindfield Online Survey Panel – Scam Or Legit?
You can also see 4 weekly payments from YouData, which isn't for much, but it's an easy way to get paid to click and view ads.
Squidoo also paid me in May for some traffic that has been generated by a few articles I wrote a while back. And this is the good thing with Squidoo, and article sites like it, for many of them, they continue to pay you for the traffic your articles generate over a lifetime, and not just a one time deal. So in the future, it can become a good source of passive income.
The payment from Simple Online Media is from Dollar Click or Sign Up, which is an awesome GPT site with a minimum payout of only $1 via PayPal. It's a good way to prove to yourself if this is legit. Making $1 on this GPT site is EASY! Then cash out, and see if you get paid. I can guarantee that after you do, you'll realize that making money online is definitely possible!
You can also see a payment from Squishy Cash, which is another one of my favorite GPT sites. There are tons of GPT sites out there with new ones opening every single day, but I can tell you that Squishy Cash has been around for quite some time, and it doesn't seem like it's shutting down any time soon. With a very loyal member base, they are constantly able to offer daily contests and bonuses, and pay out to every single member every month. I definitely recommend them.
And finally, the payment from L___ M___ for $33.68 is for an item I sold on eBay in May! eBay is another easy way to make money online! There are no surveys to complete, etc. Just look around your house and find something that you no longer have use for, and list it for sale on eBay! You'll be surprised at the fact that what you thought was junk, someone out there wants to pay you money for it! For tips on getting started selling on ebay, read How To Make Money Selling On eBay!
And that was all for the month of May.
All these payments add up to a total of $672.49, and bring my total earnings online to $14,279.11!
I'm not very far away from $15k!

My real name is Reanna but around the web, especially in the MMO (make money online) world, I'm referred to as TriNi. On this blog, I aim to teach people that it CAN be done; that there are legit and 100% free ways to make money online.