Making money on the internet is the theme of this blog, and that is what I aim to accomplish. I hope that in my own efforts of earning money online, to maybe inspire others to join and earn money on the internet as well.
Today, I'll post a few payments from sites where it's quick and easy to make money. Now when I say "money", I mean real cash, however think about the phrase "quick and easy" and you decide how much money you think you will be able to earn from these sites.
Definitely not a million bucks. Probably not even hundreds. But combined together, and extra $20 or so is more than possible.
This first site, YouData, is a PTC (paid to click) site, where you get paid for clicking ads. Now there are tons of PTC sites around the internet. But this one is my favorite only because I'm not a huge fan of clicking ads, and this one tend to pay more money per ad. The rest pay about a cent or so, and while it does add up over time, I simply do not have the patience to click 50 ads to make 50 cents. I'd much rather click on 5 and make the same money. The only problem with this site currently is that since it is relatively still new, there aren't that many advertisers and sometimes ads are limited. However, if you log in often enough, I'm sure you can find a few to click on every week or so.
YouData pays weekly every Friday via Paypal, and they do not have any minimum. If you only click on 2 ads and earn 25 cents, then that is what you will be paid come Friday. This is another feature of YouData that I like, compared to others.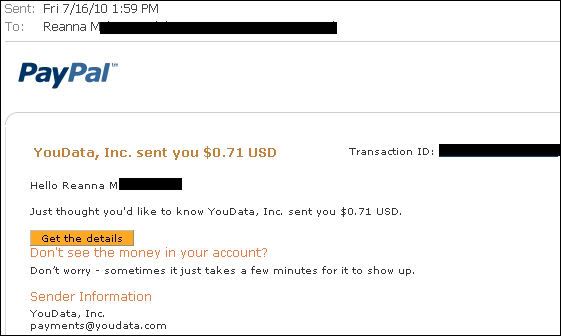 Read YouData – The best PTC site, for more information on how it works.
Another site I love making money with is a survey site called Pinecone Research. This is one of the best survey sites in my opinion, because they pay via PayPal and check. There is no cash out limit. And they pay a fixed price per survey. They also pay very quickly, within a day or two of completing the survey. I have also received quite a few products to try and keep, some of them which have been new food items etc! In fact, I just got a delivery today from this company. Off course, because of their rules, I am forbidden to say what it is, but I am very excited to taste it!
Pinecone Research is very selective in who they choose to join their survey panel and so they are only open to new sign ups a few times per year. Keep an eye out on this blog, because whenever they're open, I'll let you know.
Last but not least, a good site to work from home and make money on the internet is Cloud Crowd.
It is actually a Facebook application, where you can complete simple tasks on your own time from your computer, and they pay you for it. Cloud Crowd pays via PayPal, and they have several different types of tasks to complete worth various amounts of money. It is up to you to select the type of work you prefer doing.
Read the following post if you'd like more information on How To Make Money On Facebook With Cloud Crowd.
These payments add up to $10.10 and brings my total earnings online to $8106.93.
$10 bucks may not seem like a lot of money to you, but every little bit counts. Go to the grocery and tell them you're $10 bucks short and see if they'd still give you the stuff. I think not. A little goes a long way!

My real name is Reanna but around the web, especially in the MMO (make money online) world, I'm referred to as TriNi. On this blog, I aim to teach people that it CAN be done; that there are legit and 100% free ways to make money online.