Happy July!
My oh my, where does the time seem to be going huh? We're officially a little more than halfway through the year!
I have had such a busy crazy year so far, and my daily life routine has changed drastically that sometimes I don't even know what day it is.
I have so many backed up posts… so here today, I'm going to try to list a few of the payments I've received over the past week or so.
These are some of the quick and easy ways to make money online free!
Here are 4 YouData Payments I've received in the past month or so. If you don't know what YouData is, I really recommend you read my post YouData – The best PTC site.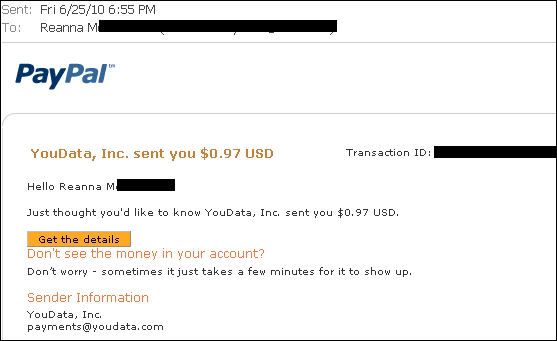 Those 4 payments add up to $4.66. Here is a snapshot of my current progress on YouData.
Now at first glance, anyone would say; "Wow, well you have a ton of referrals so obviously it's easy for you to make money". But remember a few things:
1. Those referrals have to be clicking ads and making money themselves for me to make anything off them.
2. I also log in frequently and click my own ads, so not ALL of my income is from referrals.
3. I worked my tush off on this blog so each referral I got, I earned it! You can do the same.
Almost $70 since I've been a member of this site. Not bad for a PTC (paid to click) site.
Another payment I received recently was from Cloud Crowd, which is a Facebook based application that allows you to work from home online. Like I said I've been pretty busy lately with my new responsibilities and haven't gotten time myself to do any tasks on Cloud Crowd, so this is all referral earnings. However, the amount you can make doing the work yourself is much more! Some simple tasks pay more than $1 to complete! Imagine if you can complete about 20 of those. That's $20 in easy money from home!
Here's a post you can read for more information on How To Make Money On Facebook With Cloud Crowd.
Another way to make easy money online is by using Swagbucks to perform your searches instead of Google. By using Swagbucks to search online, just like you do with Google, you can get paid to search! Swagbucks has a "Swagstore" filled with prizes to choose from, which also includes a PayPal GiftCard where you can get paid cash via PayPal.
Here are 5 payments I cashed out for recently.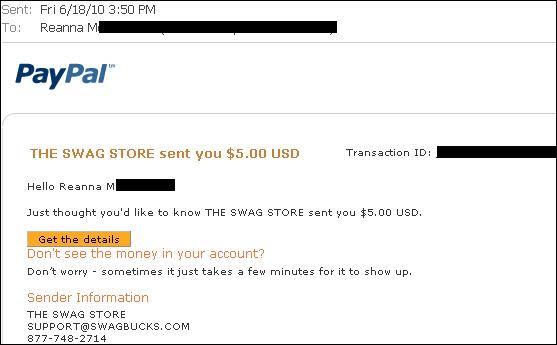 Now I didn't make all this in one month of searching. Some if it is from referrals, some is of my own searches and applying swagcodes, etc… and it took a few months or so before I accumulated this many. In fact, the last post I made about money I made on Swagbucks was back in April.
These giftcards add up to $25!
And last but not least… (for now)
Did a survey not too long ago on Pinecone Research and got my payment for that within a day or so.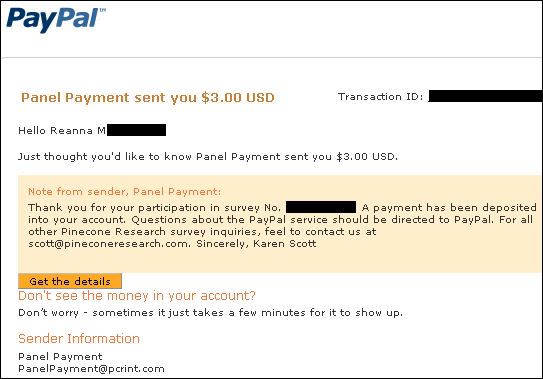 This is my 44th payment from them, and they pay $3 per survey. Do the math. $132 just for taking surveys in my free time online. By the way, there is no referral program on Pinecone Research so as you can see, I STILL do some work on my own to make money online. I do not solely rely on referrals to do it for me.
All these payments have a combined total of $32.84 and it brings my total earnings online to $7841.95!
These are some of the quick and easy ways to make money online free, working from home!

My real name is Reanna but around the web, especially in the MMO (make money online) world, I'm referred to as TriNi. On this blog, I aim to teach people that it CAN be done; that there are legit and 100% free ways to make money online.