In a recent post, I talked about how you could make money online by clicking ads and that I wasn't a big fan of these paid to click (PTC) sites simply because it took too long to make any kind of substantial amount.
Well this is also one of the reasons I prefer investing my time Get Paid To sites (GPT) instead.
Today, I'm here to post another reward I received from a GPT site called Deal Barbie Pays.
Usually on GPT sites, there are cash earnings, and some sort of point accumulation. Different sites call it different names, eg. coins, pebbles, rocks, etc. Deal Barbie Pays calls it signs. You earn these points by completing offers, playing games, etc.
Now I cashed out these signs once before since I've been a member there and I changed it into cash. I received $50 cash for my 2500 signs. However, that's no longer an option on most GPT sites because the advertisers that use these sites didn't want cash to be offered as an incentive to do their surveys/offers. Now on most GPT sites, you can redeem your points for prizes or gift cards.
Well, I redeemed 3000 signs that I had accumulated on Deal Barbie Pays for $60 worth in Amazon gift cards!
And I'm pretty happy about it because Christmas is coming up and I'm sure I could find tons of gift ideas on Amazon!
It came via email and it was really cute too!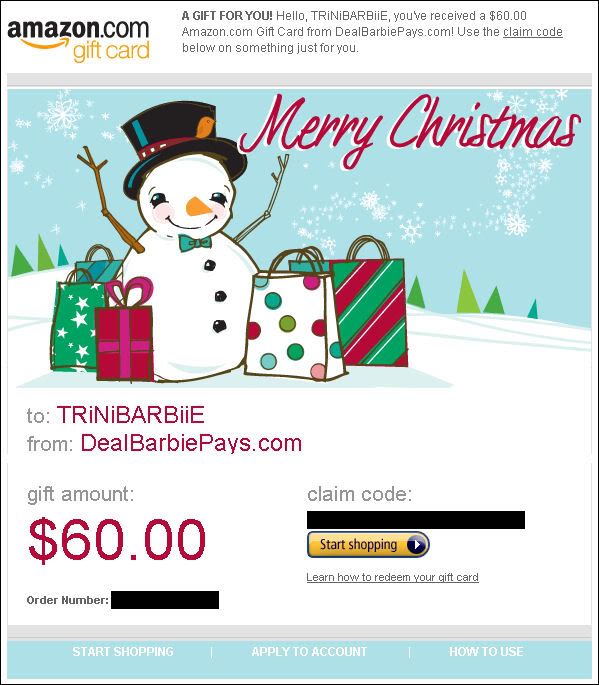 That's $60 in free money that I earned online. It brings my total to $3676.85!
Today I also did a bit of shopping on JC Penny with that $100 gift card that I received from Swagbucks, which is a site that awards you "points" for searching online. I got some cute stuff for a couple of family members for the holiday season.
I also cashed out again at Swagbucks for two $25 Macy's gift cards. I'll be sure to post when I receive them!

My real name is Reanna but around the web, especially in the MMO (make money online) world, I'm referred to as TriNi. On this blog, I aim to teach people that it CAN be done; that there are legit and 100% free ways to make money online.