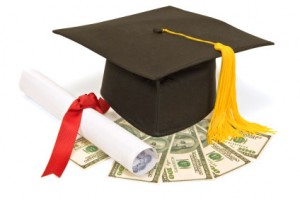 College is definitely NOT cheap, and this is me talking from experience! But I'm sure if you've stumbled upon this article, then you're probably a college student yourself and I don't need to tell you this. Here in the State of New York, there are a few grants that the government offer, as financial aid to college students. Unfortunately, if you're like me, a married middle class family without children, then chances are you don't qualify for it. I didn't qualify for it. What the government fails to realize is that their qualification requirements are too rigid, and being middle class does NOT mean that you can afford to pay out of pocket for college. After all, we have other responsibilities such as rent, bills, and oh yeah, we gotta eat! Being that I'm forced to take student loans to cover most of my college expense, I went on a hunt for scholarships that I can apply for. My only opportunity at some free money for college, some much needed help!
Here are a few sites that I've come across that will either provide you with a chance at winning scholarships, or will give you more information on where you can find more scholarships.
ScholarshipPoints.com
This site allows you to earn points for doing a variety of things such as completing surveys, liking them on Facebook, following them on Twitter, and even updating your profile! I have found that it's quite easy to earn points which can be entered into monthly $1000 scholarship drawings, or $10,000 scholarship drawings that run every three months. It's completely free to join, so even if you think it's all a sham and you'll never actually win any "free money", give it a try… you have nothing to lose!
Zinch's Weekly Scholarship
Every week, there's a new question posted. You have to answer the question within 280 characters MAX, for your chance to win $1000 scholarship. See the winners on their blog, and be sure to check back every Monday for a new question, and new opportunity to win free college money.
Scholarships.com
Scholarships.com has a ton of information on different types of scholarships, including academic and merit, athletic, disability, and even some very unusual scholarships for people with unusual talents, etc. I'm sure you'll be able to find something you can apply for there.
Cappex Scholarship Search
Cappex is a site that will match your profile with scholarships available for you to apply for.
Sallie Mae Scholarship Search
This is probably the largest and most reliable college scholarship database available. Complete your profile and you'll be matched with a list of scholarships you can apply to. You'll also be able to see the deadline and amount of the scholarship.
Bottom line is, college is expensive. If you're a college student, I'm sure you need every bit of help you can get when it comes to paying for your college education. Obama keeps talking about how everyone should aim for a higher education than high school status, but he's not saying how we should pay for it!
So far, these are the few resources I've been using to find scholarships and free money for college online. Do you know about any other resource that I didn't mention? I'd love to hear your input! Leave me a comment below.
Good luck in your search for free college money!

My real name is Reanna but around the web, especially in the MMO (make money online) world, I'm referred to as TriNi. On this blog, I aim to teach people that it CAN be done; that there are legit and 100% free ways to make money online.