I apologized for my absence in my last post, and it was due to my mother falling ill. I felt really bad to have to put this blog, and all the people I help make money online on a daily basis, on the back burner for a while, but sometimes you have to do what you have to do.
My mother was discharged from the hospital yesterday, and she's doing a bit better. She's still very weak and has a follow up procedure on April 8th, but for the time being, she's home resting. I still have a lot more responsibilities around my house, such as cleaning up, cooking, food shopping, errands, etc… so I'm still trying to manage my time and still have a life of my own.
Today I'm going to try catching up with a few of the payments I've received over the past week or so, so bare with me if it seems like a bulk of posts in a short period of time.
Here are two payments from YouData which happens to be my favorite PTC site. Read YouData – The best PTC site., if you're interested in knowing why this site is my favorite paid to click site to make money on the internet.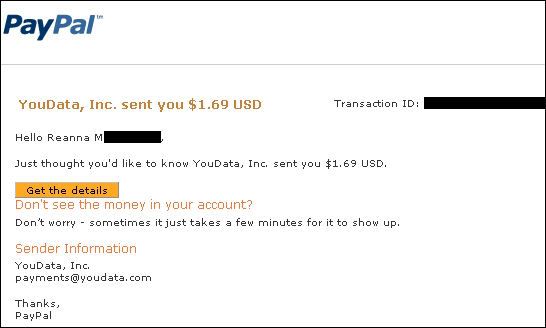 Pinecone Research also paid me for a survey I completed not too long ago. This site is also my favorite paid survey site because of their interesting, relatively short surveys, and their quick payments. They've also sent me several products to try for FREE in the past.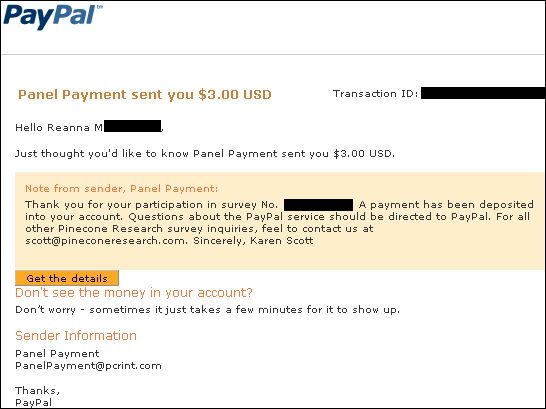 These payments add up to exactly $6 and it brings my total earnings online to $5920.94!

My real name is Reanna but around the web, especially in the MMO (make money online) world, I'm referred to as TriNi. On this blog, I aim to teach people that it CAN be done; that there are legit and 100% free ways to make money online.