So it's been about a week since my last post which was about my Cashcrate Payment, which proved that Cashcrate is not a scam, but instead one of the legit paying sites out there.
Most of you all know by now that I make money online in several different ways. And even though I haven't posted here in about a week or so, I've continue to receive payments from some of these companies that I make money online with.
Today I'll post some of those to you.
One of the ways I make money on the internet is by taking paid surveys.
Paid survey sites are sites that you join, and they email you surveys to your inbox if you meet the criteria for that particular one. On completing the survey, you'll be compensated for your time. Two of the survey sites that I currently make money with have paid me in the past week.
Pinecone Research which is by far the best survey site in my opinion, paid me for a survey I completed in the last week.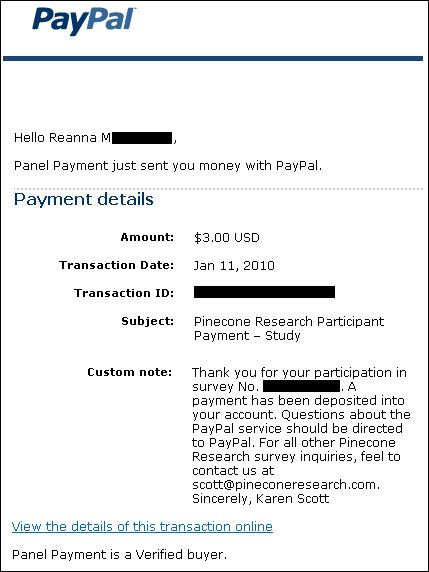 Another survey site that paid me is SurveyHead. Now I had some issues with this survey site when I first started out.. but I decided to stick with them, and honestly they are not that bad. They are definitely 100% legit as this is my second payment from SurveyHead. They send surveys regularly, almost daily. Their crediting system is still a bit delayed, but better late than never, because I love when I get that money in my PayPal account!
SurveyHead is not a scam. Here's my second payment from this company for taking surveys in my spare time online.
These two payments for taking online surveys have a combined total of $29.50 and bring my total earnings online to $4782.34!

My real name is Reanna but around the web, especially in the MMO (make money online) world, I'm referred to as TriNi. On this blog, I aim to teach people that it CAN be done; that there are legit and 100% free ways to make money online.