Hi to all. First off.
MERRY CHRISTMAS AND HAPPY HOLIDAYS!
Hope it's a joyous season for everyone!
Secondly, I recently got some new referrals from this blog I think. I think it's great that you decided to sign up! Please check your messages on the site as I sent you a welcome message with my personal contact info. I would really like to help you one on one to get started and get the hang of things. For any new referrals that decide to sign up, please always look out for my welcome message. Here's a screenshot of where you can find it!


Click on message center [boxed red]
Then a page like this will come up where you can find my message.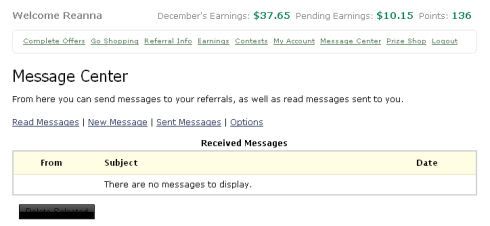 Also please email me at hottnsexxytrini@msn.com if you are interested in signing up after reading my blog. I'll be more than happy to help with any questions you might have! Sign up right now and start making extra cash with me!
Thanks!!

My real name is Reanna but around the web, especially in the MMO (make money online) world, I'm referred to as TriNi. On this blog, I aim to teach people that it CAN be done; that there are legit and 100% free ways to make money online.