For as long as I've been a member of YouData, I've been getting payments on time every time, every single Friday.
I find that this is my favorite PTC site for the following reasons.
- Site itself loads quickly, no pop ups, spam, etc.
- Ads are actually interesting to look at. I've found several websites that I bookmarked for further use.
- Ads pay much more than other sites, even up to $0.25 just for viewing 1 add! Most other sites pay 1 or 2 cents per ad.
- Collection of money is quick and easy… no count down or time limit to view the ads.
- Payments via Paypal.
- No minimum payout.
- Payments sent every single Friday.
And there are probably a few more reasons as well but for now here's proof that YouData pays!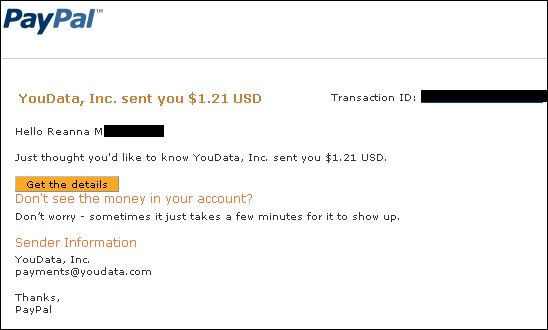 This payment brings my total earnings online to $5707.25!

My real name is Reanna but around the web, especially in the MMO (make money online) world, I'm referred to as TriNi. On this blog, I aim to teach people that it CAN be done; that there are legit and 100% free ways to make money online.