On December 13th, I posted that the final attempt to contact winners of the "Make Money Online's Give Thanks in November Contest", were sent out!
Out of the 5 winners that were chosen, only two people replied to my email and confirmed their winnings, and so were paid.
Today, I've done another drawing from the remaining emails, and I have chosen 3 new winners!
I used a program called "The Hat" this time, which allows you to enter names/emails, etc., into the program, shuffle them, and then select one out of the hat randomly.
Here is a screenshot of the new winners that were chosen, however their emails have been blocked out for privacy reasons.
Congrats to the new winners! If you are one of the winners, you will receive a personal email from me, asking you to reply to verify and claim your winnings. After you do so, you will be paid via PayPal.
This is done for security reasons, in case you were wondering. It's quite easy for anyone (someone that wasn't chosen as a winner) to email me from a DIFFERENT ACCOUNT, or to comment here, stating that they were chosen and are claiming their winnings. This is why I require the winners to reply FROM THE EMAIL ACCOUNT that was chosen, to my personal email that I send out.
Anyway here is a screenshot of the drawings, and please check your emails INCLUDING THE SPAM, just in the event that it ends up there!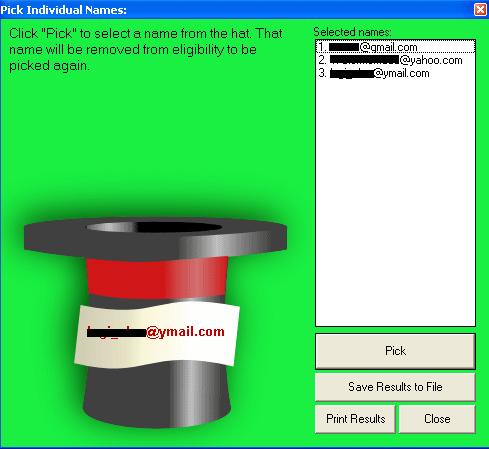 My real name is Reanna but around the web, especially in the MMO (make money online) world, I'm referred to as TriNi. On this blog, I aim to teach people that it CAN be done; that there are legit and 100% free ways to make money online.